Largest photo mosaic-world record set by The Big Picture

BIRMINGHAM, UK-- 112,896 photographs covering an area the size of three tennis courts have been collected together for "The Big Picture"-setting the world record for the Largest photo mosaic.

Photo: The individual photos were made up to create a picture sent in by Lucy Moore
(enlarge photo)

The project, called The Big Picture, was funded by Arts Council England to encourage people to get involved in the arts through photography.

It is now on display at Birmingham's Thinktank at Millennium Point.

Kerry Endsor, manager of The Big Picture, said: "When we first started, the record was much lower – about 60,000 photos. Luckily for us, we got about 6,000 in the first few days and that reaction continued."

Thousands of people from across the West Midlands sent in pictures connected with their daily lives.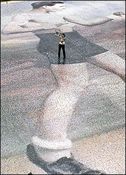 Photo: Eight photographs, taken by people from Birmingham, the Black Country, Shropshire, Stoke-on-Trent, and Warwickshire, were shortlisted to be picked as the top photograph from the total of 112,896 entries and the entire mosaic was formed to display the winning photograph, which was taken by Lucy Moore, 17, of Tipton, West Midlands, pictured left.
(enlarge photo)

She took a picture of a portrait taken in 1926 of her grandfather Arthur James Bunce, an amateur boxer, when he was also 17. Ms Moore said: "We all have that picture in our homes and my brother even has it tattooed on his back."

Artist Helen Marshall was commissioned to lead the final phase and making of The Big Picture. She worked with photo mosaic specialists PollyTiles to realise the enormous image made up of photographs submitted by the public. You can find out more about her work at www.helenmarshall.co.uk and about PollyTiles at www.pollytiles.co.uk.

The physical version of this mosaic, at 857.3 square meter, broke the World Record for the largest photomosaic and was unvieled at Millennium Point in Birmingham on August 23rd 2008.

You can explore the mosaic here.

The previous record for the largest photo mosaic record was last set when 105,196 individual photos of babies composed a mosaic which measured 660.525 m² (7109.8 ft²) in Shanghai, China, on 27 April 2008, achieved by P&G Pampers.

Related:
Largest photo Mosaic-world record attempt by Todd Bradford

Largest photo album-world record set by Dodge

Largest Photobook-world record set by Hitomi Toyama

VIDEO:
Lucy Moore realises her Grandfather is the Big Picture 2008


Friday, August 29, 2008