Longest string of prayer beads-world record set by Mustafa Kara

[Oct 25] KONYA, India-- Mustafa Kara, a bead craftsman living in Konya, set the new world record for the longest string of Mevlevi prayer beads, with his 25-meter-long, 60-kilogram string of Mevlevi prayer beads.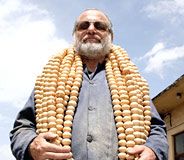 Kara has been manufacturing beads and beaded craftwork in his small workshop in the Meram district of Konya for 30 years. "In the past, these beads were used by Mevlevi sheiks for devotion, however prayer beads are used for decoration nowadays," said Kara. ''I produced prayer beads which are 12-meters-long and weigh eight kilograms a short time ago. But I wanted to break my record, so I started to prepare the materials for longer beads. The first thing I bought was a 500-kilogram piece of pinewood," he noted.

Kara started to work on the prayer beads, which consist of 1,029 different parts and 999 beads, about a month ago.
''I manufactured the 25-meter-long, 60-kilogram Mevlevi prayer beads from pinewood because of pine's beautiful color and used 360 kilograms of wood. To move the prayer beads, three or four persons are necessary because of its weight. People who have seen the beads are shocked. I don't believe that there is a similar strand of prayer beads in the world.", said Kara.

In line with demand from his customers, Kara produces three different types of prayer beads, with 33 beads, 99 beads and 999 beads. He noted that prayer beads draw the attention of tourists in particular. "I have sent so many of the prayer beads to shops all around Turkey and to Saudi Arabia. These are preferred for use as decorations for shops that are looking to create a look of authenticity," he added.


As reported by Today's Zaman Konya, India



Fastest single-turbine engine plane