Tuesday, May 8, 2012

Fastest hybrid truck: Volvo sets world record (PICS & HD Video)

Wendover Airfield, UT, USA -- Proving hybrid technology doesn't have to sacrifice power and speed, a Volvo truck – called the Mean Green – has broken its own records as the world's fastest hybrid truck; the hybrid set new world speed records last week at Utah's Wendover Airfield in the standing kilometer (95.245 mph) and flying kilometer (147.002 mph), according to the World Record Academy: www.worldrecordacademy.com/.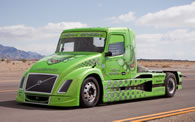 Photo: The Mean Green hybrid truck shattered its own speed records in both the standing kilometre and flying kilometre in Utah.
(enlarge photo)

Mean Green eclipsed its previous records - 218.780 km/h (135.943 mph) in the flying kilometre and 152.253 km/h (94.605 mph) in the standing kilometre - established in June 2011 at Hultsfred Airport in Sweden.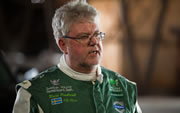 "We are very pleased with Mean Green's performance, especially at such a high altitude," said Boije Ovebrink, Mean Green driver and owner. (Photo)
(enlarge photo)

"We knew Wendover would present challenges because it's more than 4,200 feet (1,280 meters) above sea level."

Standing kilometre - The truck starts off from standstill, covering the 1,000-metre course in one direction and then the other. The average speed from the two runs is noted as the official figure.
Flying kilometre - The truck is already in motion prior to covering the defined 1,000-metre course in each direction.

The speed record attempts were sanctioned by the United States Auto Club, an extension of the Fédération Internationale de l'Automobile (FIA), motoring's international governing body.

The Guinness world record for the largest parade of Volvo cars is 570 and was achieved by Volvo Forum in association with Auto Boss (Poland) in Katowice, Poland.

Guinness World Records also recognized the world record for the Highest Vehicle Mileage, set by a 1966 Volvo P-1800S owned by Irvin Gordon of East Patchogue, New York, USA, which had covered in excess of 4,586,630 km (2,850,000 miles) by December 2010. The car is still driven on a daily basis and covers over 160,000 km (100,000 miles) per year, thanks in part to being driven to numerous car shows and events in Europe and the USA.

Though Mean Green's modified aerodynamic body design bears little resemblance to a freight-hauling tractor, the truck is comprised almost entirely of production components from the Volvo vehicle family, including a Volvo VN cab and frame.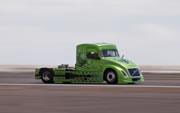 (enlarge photo)

Mean Green features a highly tuned Volvo D16 engine and a modified version of Volvo's automated IShift gearbox, which interacts with the hybrid's electric motor.

The combination of an electric motor and Volvo D16 diesel engine delivers 2,100 horsepower and nearly 6,780 Nm (5,000 lb-ft.) torque - of which, 200 horsepower and 1,200 Nm (885 lb-ft.) of torque come from the electric motor.

"Mean Green's incredible performance underscores the strong potential of hybrid drivelines when applied to the right operation," said Ron Huibers, Volvo Trucks' president of North American sales and marketing.

"Neither hybrid or any other alternative fuel technology, like natural gas, is a one-size-fits-all solution, but the technology is available for appropriate applications.

"While diesel remains the most efficient transportation fuel currently available, we know the future of petroleum is limited. The Volvo Group continues to test and evaluate the merits of a number of alternatives."

Related world records:
Fastest heavy truck: Volvo NH

First car with a wood burning stove: Pascal Prokop (Video)

Fastest 0-300-0 km/h car: Koenigsegg Agera R sets world record (Video)

Fastest Toy Car: Traxxas XO-1 (Video)

Fastest hybrid car: Infiniti M35h (Video)

Fastest couch: Ice Break s (Video)

Fastest electric motorcycle: Lightning Motorcycles

Fastest electric-powered drag racer doing 0-60mph: Beetle (Video)

Fastest Electric Race Car: The Formulec EF01 (HD Video)

Fastest rocket-powered model car: British students

Fastest motorcycle hearse : Rev Ray Biddiss (Video)

Fastest electric go kart acceleration: Linde E1 (HD Video)

Fastest Solar Powered Car: Sunswift IVy

Largest Speeding Fine: Swedish driver

Fastest street car: The Maxximus G-Force

Fastest train: world record set by China

Fastest around the world flight: Caroll Ann Garratt and Carol Foy

Fastest road-legal diesel car: AC Schnitzer

Fastest street-legal SUV: Brabus GLK V12

Fastest steam-powered car: Inspiration

Fastest street legal car: G-Force

Fastest Amphibious Channel Crossing: LMT Maritime

Fastest limousine: Ferrari

Fastest series-production high-speed train

Fastest standard road tire: Continental

Fastest Bio-fuel Powered Car: E85 Viper

Tuesday, May 8, 2012 5:00 PM