Sunday, October 16, 2011

Fastest hybrid car: Infiniti M35h sets world record (Video)

Santa Pod Raceway, UK -- With a 3.5-liter V-6 engine and 302 hp, 258 lb-ft of torque, as well as an electric motor rated for 67 hp and 199 lb-ft, the 2012 Infiniti M35h can do a quarter-mile run in an average of 13.9 seconds over multiple runs - setting the new world record for the Fastest full hybrid car, according to World Record Academy (www.worldrecordacademy.com).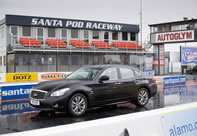 Photo: The World's Fastst Hybrid Car: Infinity M35h. (enlarge photo)

The Guinness world record for the fastest car powered by dry cell batteries is the Oxyride Racer, which achieved an average speed of 105.95 km/h (65.83 mph).

Guinness World Records also recognized the world record for the fastest car powered by biogas is 364.6 km/h (226.55 mph).

The 395bhp saloon, powered by a V6 petrol/electric hybrid engine providing an instant delivery of torque, posted the record-breaking time at the UK's Santa Pod drag strip and passed 100mph in every run.

CAR Magazine associate editor Tim Pollard at Santa Pod Raceway in the United Kingdom was the driver who set the record for the 2012 Infiniti M35h as fastest hybrid in the world.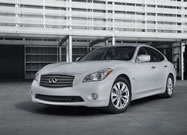 (enlarge photo)

The world record was officially set at the UK's Santa Pod Raceway, home of the FIA European Drag Racing Championships.

Hybrid cars benefit from instant torque of an electric motor from standstill, followed by the power of a petrol engine at high rev. When driving slowly around town the petrol engine is not used, reducing emissions and saving petrol.

Infiniti, which is a premium division of the Nissan brand, sees the M35H to be a rival for car such as the BMW 5 Series and Jaguar XF.

"The Infiniti M35h proves that hybrids can be fast as well as economical, said Bill Stephens, General Manager. It's an amazing accomplishment for Infiniti to have a vehicle with a World Record."

Related world records:
Fastest couch: Ice Break s (Video)

Fastest electric motorcycle: Lightning Motorcycles

Fastest electric-powered drag racer doing 0-60mph: Beetle (Video)

Fastest Electric Race Car: The Formulec EF01 (HD Video)

Fastest rocket-powered model car: British students

Fastest motorcycle hearse : Rev Ray Biddiss (Video)

Fastest electric go kart acceleration: Linde E1 (HD Video)

Fastest Solar Powered Car: Sunswift IVy

Largest Speeding Fine: Swedish driver

Fastest street car: The Maxximus G-Force

Fastest train: world record set by China

Fastest around the world flight: Caroll Ann Garratt and Carol Foy

Fastest road-legal diesel car: AC Schnitzer

Fastest street-legal SUV: Brabus GLK V12

Fastest steam-powered car: Inspiration

Fastest street legal car: G-Force

Fastest Amphibious Channel Crossing: LMT Maritime

Fastest limousine: Ferrari

Fastest series-production high-speed train

Fastest standard road tire: Continental

Fastest Bio-fuel Powered Car: E85 Viper

Fastest diesel motorcycle: The Diesel Dozen

Fastest electric vehicle: Altairnano

Fastest heavy truck: Volvo NH

Fastest jet-powered street luge: 'Tea Tray

Fastest production car: Ultimate Aero car

Fastest road-legal BMW: G-Power

Fastest single-turbine engine plane

Fastest Amphibious Vehicle: Sealegs

Sunday, October 16, 2011