Wednesday, November 5, 2014

Fastest Hearse: AMS "Madness" Hearse breaks Guinness World Records record (VIDEO)

West Chicago, IL, USA -- A performance shop, AMS Performance, based near Chicago, took a 1996 Chevrolet Caprice that it found in Knoxville, Tenn., and gave it a hot-rod makeover; the 6-liter Chevrolet V-8 from an old van was worked over and power was boosted to 1,000 horsepower and a new engine was installed to boost horsepower to 1,300 horsepower; the hearse is good for zero to 60 miles per hour in 2.26 seconds and a 9.94-second quarter mile, which sets the the new world record for the Fastest Hearse, according to the World Record Academy: www.worldrecordacademy.com/.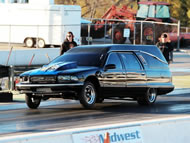 Photo: A 1996 Chevrolet Caprice hearse has been converted into a dragster. It has 1,300 horsepower, yet still plenty of room for a coffin. Photo: AMS Performance
(enlarge photo)

The Guinness World Records' record for the fastest quarter mile in a hearse is 12.206 seconds and was achieved by Shane Hammond (Australia) on the TDRA Dragway in Tasmania, Australia, on 20 February 2010.

Guinness World Records also recognized the world record for the longest parade of hearses; it consisted of 107 hearses and was achieved by Nuvema N.V. Nederlandse Uitvaartverzekering Maatschappij (Netherlands), in Baarn, Netherlands, on 30 August 2012.

The story starts with AMS Performance vice president Arne Toman and his plan to build something different, the Auto Week reported.

He began looking into the world's fastest hearse in 2008 and found out the Guinness World Records' world record was only a 13.72 at 98 mph for the quarter mile. AMS thought it could beat the record handily.

AMS installed a GM LQ4 6.0-liter V8 with a 4L85e transmission along with an intercooler, turbocharger and roll cage. Toman says he kept the internals simple, only adding new metal head gaskets, head studs, a cam and valve springs.

The AMS Hearse sprinted to 60 mph in 2.26 seconds. It did the quarter mile in 9.94 @ 137 mph and the half mile at 161 mph.

The AMS Hearse is completely streetable and can be driven anywhere comfortably with the A/C on and is really quiet through the mufflers yet pulls a wheelie on its way to a 9 second pass and easily hit over 160 mph in the half mile. As fast as it is, there is still room for improvement.

"Since its last outing and 9 second passes, we have installed a mild forged 370ci engine from AES, a new rear differential from Strange Engineering, a stronger transmission from Andy's Performance Trans and a bigger drag radial to push it a lot harder.

"The new set up allows for 1300 hp on tap. My future goals include a 9.5 second quarter mile, 175 mph in the standing half mile. The goal is to someday eventually attempt a 200 mph run on a closed airport runway."

Related world records:
Largest Parade of Hearses: Hearse Car Club sets world record (Video)

Fastest golf cart: Plum Quick Golf Cart breaks Guinness World Records' record (VIDEO)

Fastest motorhome: Fiat Doblo breaks Guinness World Records' record

Fastest mobility scooter: David Anderson and Matthew Hine breaks Guinness World Records' record (VIDEO)

Fastest shopping trolley: Matt McKeown breaks Guinness world record (VIDEO)

Fastest electric car: Drayson Racing breaks Guinness world record (VIDEO)

Fastest Electric Car: Detroit Electric smash Guinness world record (VIDEO)

Fastest car on ice: Nokian Tyres breaks Guinness world record (VIDEO)

Fastest electric speedboat: Cigarette AMG Electric Drive Boat sets world record

Fastest Standing Mile-Street Car: Performance Power Racing breaks Guinness world record (VIDEO)

Fastest Production Car from 0-300 km/h: Venom GT breaks Guinness world record (VIDEO)

Fastest milk float: Edd China and Tom Onlsow-Cole break Guinness world record (VIDEO)

Fastest speed towing a trailer: Jason Sands sets world record (VIDEO)

Fastest LNG powered supercar: Maxximus LNG 2000 sets new world records (VIDEO)

Fastest Piston Engine Car: 'Speed Demon' sets world record (VIDEO)

Fastest LNG powered supercar: Maxximus LNG 2000 sets world records (VIDEO)

Fastest electric airplane: Long-ESA Electric Airplane sets world record (VIDEO)

Fastest Standing Half Mile: Hennessey Ford GT breaks world record (PICS & Video)

Fastest hybrid truck: Volvo sets world record (PICS & HD Video)

Fastest 0-300-0 km/h car: Koenigsegg Agera R sets world record (Video)

Fastest Toy Car: Traxxas XO-1 (Video)

Fastest hybrid car: Infiniti M35h (Video)

Fastest couch: Ice Break s (Video)

Fastest electric motorcycle: Lightning Motorcycles

Fastest electric-powered drag racer doing 0-60mph: Beetle (Video)

Fastest Electric Race Car: The Formulec EF01 (HD Video)

Fastest rocket-powered model car: British students

Fastest motorcycle hearse : Rev Ray Biddiss (Video)

Fastest electric go kart acceleration: Linde E1 (HD Video)