Saturday, January 26, 2013

Fastest Standing Mile-Street Car: Performance Power Racing breaks Guinness world record (VIDEO)

West Palm Beach, FL, USA -- Johnny Bohmer Owner of Performance Power Racing and Driver of the World Famous BADD GT, along with Matt Lundy, Lead Design Tech, piloted the 1700+ horse power Ford GT down NASA's Shuttle Landing Facility Runway setting a new World Record at 283.232 mph for Fastest Standing Mile-Street Car, according to the World Record Academy: www.worldrecordacademy.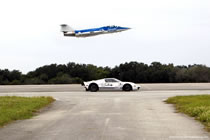 com/.

Photo: Performance Power Racing Re-Sets the World Record for Fastest Standing Mile-Street Car at 283.232 mph. (enlarge photo)

The Guinness world record for the land-speed record (measured over one mile) is 1,227.985 km/h (763.035 mi/h) (Mach 1.020), set by Andy Green (UK) on 15 October 1997 in the Black Rock Desert, Nevada, USA, in Thrust SSC.

Guinness World Records also recognized the world record for the fastest car on ice; 331.61 km/h (206.05 mph) - achieved by Janne Laitinen (Finland), on behalf of Nokian Tyres (Finland), in the Gulf of Bothnia (Frozen Sea), Finland.

The Standing Mile is an event in which a vehicle, from a dead stop, accelerates completely through the one mile mark.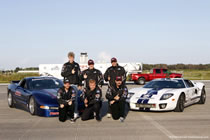 (enlarge photo)

"Our entire team has worked very hard to get here and we are proud to be able to put an American car in the record books as the fastest street car in the world." Mr. Bohmer said about the achievement.

"By NASA allowing us access to a one of a kind facility, we are given the opportunity to explore these technologies and share their benefits. An immense amount of research and development went in to this 3 year project and we are just scratching the surface of where these systems can be utilized outside of the racing arena."

Performance Power Racing is a West Palm Beach based Research and Development Company working directly with Pratt & Whitney on a new high specific strength, high temperature tolerant, Aluminum Alloy branded Pandalloy™.

Performance Power has successfully transitioned and implemented Aerospace Technology in to the Automotive World.

Related world records:
Fastest Production Car from 0-300 km/h: Venom GT breaks Guinness world record (VIDEO)

Fastest speed towing a trailer: Jason Sands sets world record (VIDEO)

Fastest LNG powered supercar: Maxximus LNG 2000 sets new world records (VIDEO)

Fastest Piston Engine Car: 'Speed Demon' sets world record (VIDEO)

Fastest LNG powered supercar: Maxximus LNG 2000 sets world records (VIDEO)

Fastest electric airplane: Long-ESA Electric Airplane sets world record (VIDEO)

Fastest Standing Half Mile: Hennessey Ford GT breaks world record (PICS & Video)

Fastest hybrid truck: Volvo sets world record (PICS & HD Video)

Fastest 0-300-0 km/h car: Koenigsegg Agera R sets world record (Video)

Fastest Toy Car: Traxxas XO-1 (Video)

Fastest hybrid car: Infiniti M35h (Video)

Fastest couch: Ice Break s (Video)

Fastest electric motorcycle: Lightning Motorcycles

Fastest electric-powered drag racer doing 0-60mph: Beetle (Video)

Fastest Electric Race Car: The Formulec EF01 (HD Video)

Fastest rocket-powered model car: British students

Fastest motorcycle hearse : Rev Ray Biddiss (Video)

Fastest electric go kart acceleration: Linde E1 (HD Video)

Fastest Solar Powered Car: Sunswift IVy

Last update: Saturday, January 26, 2013 8:50 AM