Wednesday, October 31, 2012

Fastest LNG powered supercar: Maxximus LNG 2000 sets new world records (VIDEO)

LOS ANGELES, CA, USA -- The Maxximus LNG 2000, the brainchild of financier Bruce McMahan and Indianapolis-based designer Marlon Kirby, continues to smash existing records in the automotive history with three new world records set using propane (LPG); driven by designer Marlon Kirby, the Maxximus LNG 2000 using LPG achieved:
• 0 - 60 mph 2.6 seconds
• Speed in 1/4 mile 134 mph
• 1/4 mile elapsed time 10.28 sec, making it the fastest powered supercar ever created using both LNG and LPG, according to the World Record Academy: www.worldrecordacademy.com/.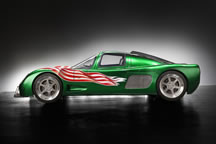 Photo: The World's Fastest LNG powered supercar: Maxximus LNG 2000.
(enlarge photo)

The Guinness world record for the fastest car powered by dry cell batteries is the Oxyride Racer, which achieved an average speed of 105.95 km/h (65.83 mph).

Guinness World Records also recognized the world record for the fastest car powered by biogas is 364.6 km/h (226.55 mph).

Centaur Performance Group (www.centaurmaxximusmotion.com), the incubator group that researched and brought these technological monster advancements in the green automotive sector, unveiled the Maxximus LNG 2000 last year at the Wynn Hotel in Las Vegas, NV.

Its unique qualities include:
• The car runs on LNG, CNG and LPG with on demand adjustments
• All carbon fiber body
• 430 CI twin turbos
• All aluminum V8, 1600 + HP
• Cryogenic chilled intercoolers
• Self pressuring fuel tanks
• Gaseous fuel injectors
• Boost reference gaseous regulators
• All state legal emissions

Centaur Performance Group is owned by financier and philanthropist Bruce McMahan, who states, "When it comes to automobile performance, natural gas is at the forefront of people's thinking. By using both LNG and LPG instead of gasoline, Centaur is taking up the charge in doing all it can to reduce America's dependence on foreign fuel sources."

"Natural gas is a lot more attractive given the situation in the market, and there isn't a car on the market that currently utilizes both LNG and propane. It's the ultimate win-win for everybody," commented Kirby.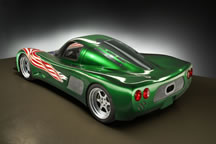 (enlarge photo)

In addition, Centaur is also developing a consumer-targeted line of vehicles called the Centaur Dragonfly that can be powered by four fuel types -- gasoline, LNG, LPG and CNG (compressed natural gas).

This new generation of cars, equipped with cutting-edge onboard technology developed by Maxximus, is specifically designed to put the owner of the vehicle in a position where they can avail themselves to the lowest priced fuel in their vicinity.

Related world records:
Fastest LNG powered supercar: Maxximus LNG 2000 sets world records (VIDEO)

Fastest electric airplane: Long-ESA Electric Airplane sets world record (VIDEO)

Fastest Standing Half Mile: Hennessey Ford GT breaks world record (PICS & Video)

Fastest hybrid truck: Volvo sets world record (PICS & HD Video)

Fastest 0-300-0 km/h car: Koenigsegg Agera R sets world record (Video)

Fastest Toy Car: Traxxas XO-1 (Video)

Fastest hybrid car: Infiniti M35h (Video)

Fastest couch: Ice Break s (Video)

Fastest electric motorcycle: Lightning Motorcycles

Fastest electric-powered drag racer doing 0-60mph: Beetle (Video)

Fastest Electric Race Car: The Formulec EF01 (HD Video)

Fastest rocket-powered model car: British students

Fastest motorcycle hearse : Rev Ray Biddiss (Video)

Fastest electric go kart acceleration: Linde E1 (HD Video)

Fastest Solar Powered Car: Sunswift IVy

Tuesday, March 12, 2013 4:49 PM