Saturday, August 6, 2011

Oldest living animal: 178-year-old tortoise set world record

St Helena Island, UK -- Jonathan, a Giant Land Tortoise, the sole survivor of three tortoises that arrived on St Helena Island in 1882, has at least 176 yrs , setting the world record for the Oldest living animal.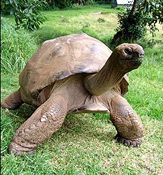 Photo:The world's oldest living animal has been recognized as a 178-year-old tortoise – Jonathan. (enlarge photo)

The Guinness world record for the oldest living creature is the Triops cancriformis, or tadpole shrimps, which are said to be the oldest pedigree of any living creature and fossil evidence suggests that they have hardly changed in the 200 million years they have existed.

Guinness World Records also recognized the world record for the oldest parrot- living: 39 years, held by pet parrot Fred, owned by Sandra LaFollette of Chariton, Iowa, USA.

A picture taken during the Boer War around 1900 helps to mark Jonathan, the turtle, as the oldest living animal.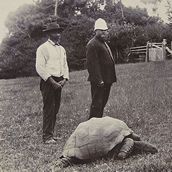 Photo: A tortoise nibbles at the grass in front of a Boer War prisoner and guard. Jonathan, the tortoise, is believed to be 178-years-old and was about 70 at the time the black and white picture was taken. He was photographed during the Boer War around 1900. (enlarge photo)

Jonathan, now 178 years old, was about 70 when the photo was snapped on the South Atlantic island of St. Helena, where he still lives today along with five other tortoises: David, Speedy, Emma, Fredrikca and Myrtle.

They all reside on a special plantation owned by the government of St. Helena.

Jonathan's life has spanned eight British monarchs from George IV to Elizabeth II, and 50 prime ministers.

Despite his years, Jonathan still has the vim and vigor to regularly mate with the three younger females.

The previous oldest tortoise was widely thought to be Harriet, a giant Galapagos Land tortoise, who died in 2005 aged 175 in Australia.

A spokesman for the island's tourist board said that St Helena government owns Jonathan and he lives in the specially built plantation on the governor's land.

"Jonathan is the sole survivor of three tortoises that arrived on St Helena Island in 1882," the Telegraph quoted him as saying.

"He was already mature when he arrived and was at least 50-years-old.
"Therefore his minimum age is 178-years-old. He is the oldest inhabitant on St Helena and is claimed to be the oldest living tortoise in the world."

"He feeds on the grass of the main paddock. "
Jonathan is still very active despite his age and adores attention, he is a real poser.
"He seems to be sightless in one eye, but does not let that slow him down," he added.

Related world records:
Smallest Dinosaur: 'Ashdown Maniraptoran' Fossil

Largest Fossil Spider: 165-million-year-old fossil

Most ears on a cat: Luntya The Cat (Video)

Loudest Cat: Smokey The Cat (Video)

Largest natural abalone pearl: Abalone "horn" pearl

Longest Cat: Stewie

Longest recorded migration of any mammal: Humpback Whale

Smalles Cow: Swallow

Smartest monkey: Kanzi the 'talking' Ape

Smallest Horse: Einstein the Horse

Smartest Horse: Lukas the Horse

Most ducklings hatched: mallard duck

Biggest Rabbit: Darius the Rabbit

Oldest Pig: Oscar the Pig

Biggest Rabbit: Ralph the rabbit

Longest Animal Migration - The Arctic Tern

Largest genetically engineered trout: Sean Konrad

Biggest bullock: The Field Marshall

Most expensive cow: Missy

Most expensive sheep: Deveronvale Perfection

Longest snake in captivity: Fluffy

Tallest cat: Scarlett's Magic

Biggest Largemouth Bass: Manabu Kurita

Largest Chicken Egg: China

Oldest living rabbit: Hazel

Largest Snake: Titanoboa

Largest number of bird species spotted: Alan Davies and Ruth Miller

Biggest rabbit: Herman the giant rabbit

Oldest cat: Mischief

Oldest living animal: Jonathan the tortoise

Largest school of sharks: the Dubai Aquarium

Smallest snake: Leptotyphlops carlae

Saturday, August 6, 2011