Saturday, January 23, 2010

Longest Animal Migration - The Arctic Tern sets world record

GREENLAND, Denmark --An international research team from Greenland, Denmark, the United States, Great Britain, and Iceland ( Study leader Carsten Egevang, from the Greenland Institute of Natural Resources) found that the Arctic tern, flies more than 44,000 miles (71,000km) from pole to pole each year, flying between its breeding grounds in Greenland and the Weddell Sea on the shores of Antarctica -setting the world record for the Longest Animal Migration.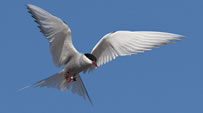 Photo: Arctic Tern with a geolocator tracking device attached to its leg. The bird was tracked on its world's Longest Animal Migration. (enlarge photo)

Scientists made the discovery after attaching tiny tracking devices to terns to map their mammoth migrations.

The device regularly records light intensity, which can be used to generate two geographical positions per day. While geolocators have helped scientists follow the journeys of larger animals, including geese, albatross, penguins and seals, they have only recently been made small enough to attach to lightweight birds, such as the tern. The researchers fitted geolocators weighing about 1.4 grams each to the legs of 60 terns.

They found that the birds do not immediately travel south from Greenland, but first spend almost a month at sea in the middle of the North Atlantic ocean.

They then continued down the coast of north-west Africa. Around the Cape Verde Islands the researchers were surprised to find that about half the birds carried on south along the African coast while the rest crossed the Atlantic to follow a parallel route down the east coast of South America.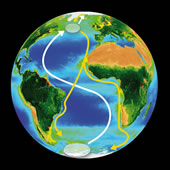 Photo: Migration patterns of the Arctic tern, from the breeding sites in Greenland and Iceland to the winter grounds at Antarctica. The birds take a month-long break in the Northern Atlantic to refuel (enlarge photo)

All the terns studied escaped the northern winter by flying to Antarctic waters, where it is summer at the same time of year. But they did not choose the shortest route back to Greenland.
Instead, they traced a giant 'S' pattern northward through the Atlantic Ocean, making a detour of several thousand miles.
The diversion took advantage of prevailing global wind systems to help the birds preserve energy.

The findings are published in the journal Proceedings of the National Academy of Sciences. Study leader Carsten Egevang, from the Greenland Institute of Natural Resources, said: "This study on seabird migration has given us an incredibly detailed insight into how long-distance migrants behave at times of the year when it's normally impossible for us to follow them.

"Our analysis shows that the birds' behaviour is closely correlated with both biological and physical parameters along the migration route. They paused in their southward migration to spend time in highly productive waters in the middle of the Atlantic Ocean. Compared to this stop-over site, the marine area immediately to the south is lower in productivity. Clearly, Arctic terns have learned to 'fuel up' before crossing areas of ocean with limited foraging options."

Arctic terns can live up to 34 years. When the scientists added up the total distance each bird flew during its lifetime they found it equalled three round trips to the Moon - or more than 1.25 million miles.

"This is a mind-boggling achievement for a bird of just over 100 grams," said Mr Egevang.

The previous Guinness world record for the Longest Animal Migration was set by the sooty shearwater, a seabird that makes a 40,000-mile circular trek each year from New Zealand to Alaska.

Related world records: Nature world records

Largest genetically engineered trout - world record set by Sean Konrad

Oldest Living Palmer's Oak- Jurupa Oak sets world record

Smartest dog - world record set by Betsy

Tallest Zinnia - world record set by Everett Wallace Jr. and Melody Wagner

Saturday, January 23, 2010