Monday, October 12, 2009

Tallest dog-world record set by Boomer

CASSELTON, ND, USA -- Boomer, a 180-pound Landseer Newfoundland dog (owned by Ms. Caryn Weber and sons Waylon and Hunter, measures 3ft tall (1 metre) at the shoulders and 7ft (2.1m) long from nose to wagging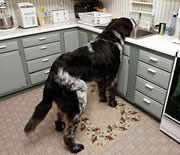 tail, and stands 36 inches tall at the shoulders -setting the new world record for the Tallest living dog.

(enlarge photo)

His owner, Ms. Caryn Weber, of Caselton in North Dakota, has told how her pet has become a bit of celebrity since news of his attempt to make the record books has spread. She said: "The phone hasn't stopped ringing. It's been a whirlwind."

Boomer can stare into a car window eye to eye with a driver. A 20lb (9kg) bag of dry dog food lasts the 180lb (81kg) canine a couple of weeks.

Even for a Newfoundland, one of the largest dog breeds around, Boomer is big. As a puppy, Boomer was called Ripley (as in "Believe It or Not!") in reference to multiple surgeries he had to deal with an abdominal hernia.

"We changed his name from 'Ripley' to 'Boomer' when we got him because of his deep, big booming bark" said owner Caryn Weber.

The growing puppy expanded at such an alarming rate that his stitches ripped, the Associated Press reports.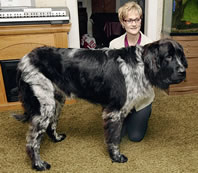 Caryn Weber says her three-year-old Landseer Newfoundland keeps all four paws on the floor when he drinks from the kitchen tap in her family's farmhouse in North Dakota.

(enlarge photo)

"He comes into the house and his tail is so high everything gets knocked around."

Weber says the fluffy black and white dog comes into the house and his tail is so high everything gets knocked around.

The previous Guinness world record holder for the tallest dog was a nearly 4ft (1.2m) tall Great Dane which died this summer.
Related world records:
Oldest Dog-world record set by Chanel

Largest pumpkin-world record set by Christy Harp

Heaviest gooseberry-world record set by Bryan Nellist

Tallest Cactus-world record set by SDM College of Dental Sciences

Largest rutabaga-world record set by Scott Robb

Largest cabbage-world record set by Steve Hubacek

Oldest Dog-world record set by Max the terrier

Biggest Largemouth Bass-world record caught by Manabu Kurita

Longest Cucumber-world record set by Yitzhak Yazdanpana

Largest Chicken Egg-world record set in China

Oldest living rabbit-world record set by Hazel

Monday, October 12, 2009