Thursday, August 13, 2009

Oldest Dog-world record set by Max the terrier

NEW IBERIA, LA., USA -- Janelle DeRouen is the 'mother' of Max, a terrier mix who celebrated his 26th birthday (182 in dog years, the equivalent of being born in 1827) at home on Aug. 9 -setting the world record for the Oldest Dog.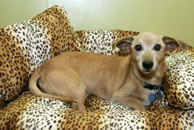 "He's a very, very laid back dog," said Janelle. "He'll play with the kids for a bit but if they bother him too long he'll wander off.

(enlarge photo)

"He doesn't have any fancy toys, just a bit of rope and a regular squeaky ball."

Janelle, who gave Max a birthday party on Sunday, says his secret is taking life easy. She added: "He's very laid back. He likes to relax and keep life simple."

When Janelle DeRouen of New Iberia, La., heard about Chanel, the 21-year-old pooch who made headlines recently for being the world's oldest dog, she knew she had to set the record straight.

Max has vet papers to prove he was born in 1983 and owners Janelle and Billy Derouen are happy to have him recognized by the World Record Academy as the world's oldest dog.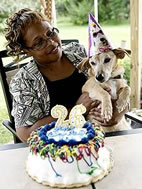 At Max's birthday bash, friends and family all gathered to pay tribute to the special dog. "He was chewing on his little birthday cake that was made of cream cheese and peanut butter," says DeRouen. "He was thrilled."

Photo: Max the terrier mix celebrated his 26th birthday / BARM / Fame (enlarge photo)

"We had a gift table set up. He had other little doggie friends over," DeRouen tells PEOPLE Pets. "Me and my husband [got] him his own little sofa bed. He has his own little couch now."

Janelle and Billy bought Max from a local sugar cane farmer in 1983. "He was the only one in the litter that was brown and I liked the colour so I took him home," said Janelle.

Max, the world's Oldest Dog , has been visiting the same vet since birth at the Robichaux Veterinary Clinic in New Iberia. An 80s puppy Max's birth was formally logged in 1983.

Born in 1983, the "active" geriatric dog hasn't had many health problems over the years, says DeRouen.

"The only time I had to bring him to the vet for something serious was for a tooth to be extracted. But that's it," she says. In recent years, he's had a few expected aliments. "He is starting to get cataracts, a little arthritis, but otherwise he's healthy."

DeRouen, who's a patient services coordinator at a neurologist's office, says the dog's longevity is a mystery to her. "I'm still wondering," she says. "I don't feed him any type of table food. He started on Puppy Chow as a puppy and has been eating Kibbles 'n Bits for the last 15 years."

Related world records:
Biggest Largemouth Bass-world record caught by Manabu Kurita

Longest Cucumber-world record set by Yitzhak Yazdanpana

Largest Chicken Egg-world record set in China

Oldest living rabbit-world record set by Hazel

Largest organic cucumber-world record set by the Segee family

Oldest Dog-world record set by Chanel

Largest Snake-world record set by Titanoboa

Largest number of bird species spotted-world record set by Alan Davies and Ruth Miller

Biggest rabbit-world record set by Herman the giant rabbit

Oldest cat-world record set by Mischief

Largest potato-world record set by Khalil Semhat

Largest rutabaga-world record set by Norm Craven

Oldest living animal- world record set by Jonathan the tortoise

Thursday, August 13, 2009