Oldest cat-world record set by Mischief

ST. AUSTELL, England -- Mischief, a cat owned by an English family, has celebrated his 27th birthday which is equivalent to 125 human years and sets the world record for the Oldest Cat.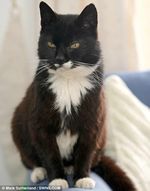 Photo: The Oldest cat in the world, 27-year-old Mischief sleeps for 16 hours most days. Photo Mark Sutherland/SWNS (enlarge photo)

Chris, of St Austell, Cornwall, said: "I can't imagine him not being here. He has been with me through thick and thin. He's seen several girls come and go! We've moved about five times, he eats what he's given, I've never spoilt him."

The owners of the cat, Chris and Donna Thorne, revealed that the feline is growing, however, its growth has slowed down a little.

Donna, 33, said: "It's amazing – he just keeps going. People can never believe it when we tell them how old he is. He was hit by a motorbike and lost an eye in 1990 but we think he still has eight lives left!"

Though the cat is growing older it still manages to have a spring in each step it takes.

"His name says it all, he may be 27 but he still manages to jump over the stair gate and he''s round your ankles constantly for food, Chris Thorne said. "He''s an indoor cat now, and he''s losing big clumps of fur, but he''s still going, he added.


His owners put his longevity down to pure laziness.

(enlarge photo)

'People ask what we're feeding him to keep him going so long - they think it must be a diet of vitamins or something,' Donna Thorne, 33, said. 'But we don't do anything special, he is just a greedy and lazy boy who will eat anything that he can get his paws on.

Mischief is fed dry cat food every day and pouches of meat every other day.

She added: "We'd love to know if there are any older cats in Cornwall. He's lost a couple of his nine lives over the years but it doesn't seem to have affected him."

The oldest cat ever is Creme Puff, who was born on August 3, 1967 and lived until August 6, 2005 an amazing 38 years and three days. Creme Puff lived with her owner, Jake Perry, in Austin, Texas.

There is no reliable scientific method for calculating exactly how old a cat is in human years. But experts say the first two of a cat's life are roughly equal to the first 25 of ours – and each additional year equals around four for us.

Related old records:
Oldest living animal- world record set by Jonathan the tortoise

Oldest living polar bear-world record set by Debby

Oldest living tree-world record set by a Swedish spruce

Oldest Mother-world record set by Omkari Panwar

Oldest person-world record set by Edna Parker


Sunday, December 7, 2008