Oldest Mother-world record set by Omkari Panwar

MUZAFFARNAGAR, India --Omkari Panwar, a 70-year-old grandmother from India gave birth to twins, setting the world record for the oldest mother.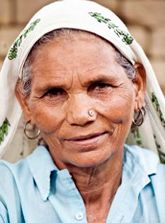 Photo: Omkari Singh Panwar: "If I am the world's oldest mother it means nothing to me. I just want to see my new babies and care for them while I am still able." / Barcroft Media (enlarge photo)

Omkari Panwar and her 77-year-old husband Charan Singh Panwar, a retired farmer already have two grown-up daughters, and five grandchildren, but were desperate for a son and heir.

And, after she controversially underwent IVF treatment, which cost 350,000 rupees (£4,375 or $9,000)-a small fortune in India, the couple's wish was granted, when the twins, a boy and a girl, were delivered by Caesarian section.

To pay for it Charan mortgaged his land, sold his buffalo, spent his life savings and took out a loan.

"I am very happy," Charam Singh, 75, the father of the twins, told ABC News through an interpreter.

Singh was reluctant to speak because he has received negative publicity for his wife's having children at such an advanced age. Even many people of his village in India's state of Uttar Pradesh haven't supported the decision. Still, he and his wife are happy.

"The desire for a male child has always been there, but God did not bless us with a male child," he said of the son who is a product of in vitro fertilization. "Now, we are very grateful to God, who has answered our prayers."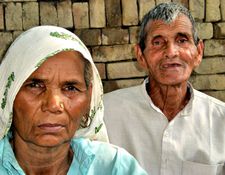 Photo: Omkari Panwar, 70, and her husband, Charan Singh Panwar, 77 / Fame Pictures (enlarge photo)

The twins — born one month premature and each weighing two pounds, nine ounces — are healthy and expected to survive, according to doctors at Jaswant Roy Speciality Hospital, where they are in incubators, the paper goes onto add.

Panwar's doctor Nisha Mallik, who delivered the twins, explained some of the details of Panwar's pregnancy. "Omkari is a 70-year-old patient who has conceived through IVF fertilisation with a pre-term of 32 weeks. Due to some complications, we had to start with the caesarian section. She has delivered twins," explained Panwar. "I have been practising medicine for 20 years and I have never heard of such a case."

She underwent in-vitro fertilization, after which the couple's wish was granted when the twins, a boy and a girl, were delivered by Caesarian section, the paper says.

Recuperating on a rusty steel bed in her daughter's mud-brick home, Omkari said: "For eight months the pregnancy was hectic and very painful. But I have given birth before, so I knew what to expect. "Sometimes, you have to face the pain if you want something good. All I care about is that my children are healthy. "My daughters' have got a little brother, my husband and I have got an heir – that is all we ever wanted."

"At last we have a son and heir," he said. "We prayed to God, went to saints and visited religious places to pray for an heir.

"We kept no stone unturned and God has rewarded us. The treatment cost me a fortune but the birth of a son makes it all worthwhile. I can die a happy man and a proud father," the paper states.

The twins are currently under observation because they were born a month early but they are doing fine.

According to India's 2001 census, the country has a national average of 927 girls born for every 1,000 boys.

The British medical journal the Lancet recently estimated that 500,000 female fetuses are aborted each year in India solely because of their gender.

In April, Indian Prime Minister Manmohan Singh termed female foeticide and infanticide "a national shame."

The previous oldest ever mother was Adriana Iliescu, a Romanian who gave birth to a daughter, aged 66 in 2005.