UPDATE:

The New Zealand Herald quotes entomologist Ruud Kleinpaste as saying that the heaviest giant weta on record weighed 72 grams, which would be a gram heavier than Moffett's carrot-eating friend. Kleinpaste also said it's not unusual for the bugs to munch on carrots.
But even if Moffett's weta is an unremarkable "wee 'un," Kleinpaste is glad for the publicity: "I think it's wonderful as long as weta get the attention and not that idiot American."
Kleinpaste thought Moffett, a researcher at the Smithsonian Institute in Washington DC, might be a "poser" as it was normal to feed weta carrots.


Sunday, December 4, 2011
Heaviest insect: Giant Weta sets world record (Video) /

Little Barrier Island, New Zealand -- A researcher at the Smithsonian Institute in Washington DC, Mark Moffett from Colorado, America, revealed that he spent two days tracking down a giant weta insect, which weighs three times more than a mouse and eats carrots; it weighs 2.5 ounces (71 grams) and has a lengh of 7 inches (17.8 centimeters) - setting the new world record for the Heaviest insect, according to World Record Academy (www.worldrecordacademy.com).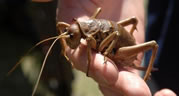 Photo: Pictures of a giant weta eating a carrot have gone global, but locals are unimpressed. Mr Moffett's claim it's not true. Photo / APN

The Guinness world record for the heaviest insects was set by the goliath beetles (family Scarabaeidae) of equatorial Africa; the lengths from the tips of the small frontal horns to the end of the abdomen were up to 11 cm (4.33 in), with weights of 70-100 g (2.5-3.5oz).

Guinness World Records also recognized the world record for the largest species of centipede, set by the 26-cm-long (10-in) giant centipede (Scolopendra gigantea) of Central and South America.

Adventurer Mark Moffett, who found the female weta up a tree after two day's searching on the island, said the species were wiped off the mainland by rats accidentally introduced by Europeans.

"The giant weta is the largest insect in the world, and this is the biggest one ever found[FAKE CLAIM-our note], she weighs the equivalent to three mice," Moffett, an entomologist and explorer at the Smithsonian Institution in the US, was quoted as saying by the Daily Telegraph.

Discovered up a tree, this giant weta has been declared the largest ever found – weighing the equivalent of three mice.

American researcher Mark Moffett fed a carrot to a giant weta on a recent visit to New Zealand's Little Barrier Island.

"She enjoyed the carrot so much she seemed to ignore the fact she was resting on our hands and carried on munching away," Moffett said.

"She would have finished the carrot very quickly, but this is an extremely endangered species and we didn't want to risk indigestion," he said.

He added, "we bug lovers hear a lot of people who think insects are inferior in some way because of their size, so it was great to see such a big insect."

Related world records:
Largest snake living in captivity: 25-feet long Medusa (Video)

Largest crocodile captured: Lolong The Crocodile (Video)

Smallest Chicken Egg: John Spencer Russell Egg

Largest sand dollar: world record found by Augie Balicki

Largest crocodile in captivity: Cassius (HD Video)

Oldest living animal: 178-year-old tortoise

Smallest Dinosaur: 'Ashdown Maniraptoran' Fossil

Largest Fossil Spider: 165-million-year-old fossil

Most ears on a cat: Luntya The Cat (Video)

Loudest Cat: Smokey The Cat (Video)

Largest natural abalone pearl: Abalone "horn" pearl

Longest Cat: Stewie

Longest recorded migration of any mammal: Humpback Whale

Smalles Cow: Swallow

Smartest monkey: Kanzi the 'talking' Ape

Smallest Horse: Einstein the Horse

Smartest Horse: Lukas the Horse

Most ducklings hatched: mallard duck

Biggest Rabbit: Darius the Rabbit

Oldest Pig: Oscar the Pig

Biggest Rabbit: Ralph the rabbit

Longest Animal Migration - The Arctic Tern

Largest genetically engineered trout: Sean Konrad

Biggest bullock: The Field Marshall

Most expensive cow: Missy

Most expensive sheep: Deveronvale Perfection

Longest snake in captivity: Fluffy

Tallest cat: Scarlett's Magic

Biggest Largemouth Bass: Manabu Kurita

Largest Chicken Egg: China

Oldest living rabbit: Hazel

Largest Snake: Titanoboa

Largest number of bird species spotted: Alan Davies and Ruth Miller

Biggest rabbit: Herman the giant rabbit

Oldest cat: Mischief

Oldest living animal: Jonathan the tortoise

Largest school of sharks: the Dubai Aquarium

Smallest snake: Leptotyphlops carlae

Biggest Chicken Egg:'Titi'

Largest Oyster: Richard Mesce

Sunday, December 4, 2011