Friday, April 8, 2011

Most balloons crossing the English Channel: 50 hot air balloons set world record (Video)

CALAIS, France -- A 50-strong fleet of hot air balloons journeyed over the English Channel - one of the busiest waterways in the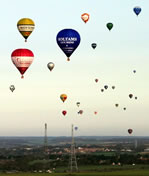 world - within four hours of setting off , setting the world record for the Most hot air balloons crossing the English Channel.

(enlarge photo)

The Guinness world record for the longest duration flight by helium balloons is 13 hr 36 min 57 seconds and was achieved by Jonathan Trappe (United States) in The Spirit Cluster (totalling 57 balloons) who flew over North Carolina, United States

Guinness World Records also recognized the world record for the Largest banner flown by balloons: it measured 107 m (351 ft) in length and 53 m (173 ft 10 in) in width and was made by Fiesta Kuwait co. (Kuwait).

'I'm absolutely elated we hae done it,' said organiser Ian Sharpe, 51, of Caterham in Surrey.
'It's the culmination of 14 months of hard work that has paid off.'

Fifty-one hot air baloons set off for France from Wootton, Kent - but a technical fault halted one and 50 made it to Calais.

But for those adventurers that made it, Champagne corks were popped in celebration on the French side.

The world record flight was the idea of retired policeman Ian Sharpe, 51 - who took up the sport eight years ago.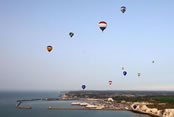 (enlarge photo)

The BBC said balloon crews from Germany and Italy traveled to England for the flight.

Among the fleet was a 61ft dragon-shaped balloon, deemed to be the largest of its kind and the only hot air balloon in the UK with a glass-bottomed basket.

Sponsorship from the bid will go to three charities, including the RNLI, the Royal Air Force Benevolent Fund and the Halow Project, which supports young people with learning disabilities.

Related world records:
Youngest relay team to swim the English Channel: English swimmers

Fastest crossing of the English Channel on a wakeboard: Edward Bosso

First person to cross the English Channel using helium balloons: Jonathan Trappe

Largest balloon cluster flight: National Geographic

Largest mass ascent-Lorraine Mondial Air Ballons rally

Longest Cluster Balloon Flight: Jonathan Trappe

World's Most Attractive Flight Attendants: Virgin Atlantic's cabin crew

Most miles travelled by a passenger: Fred Finn

Longest nonstop flight in a lightweight plane: Arnold Ebneter

First person to cross the English Channel using helium balloons: Jonathan Trappe

Longest solar-powered flight by paramotor: the Cardozo family

Youngest passenger to fly in microgravity: Jules Nader

Youngest to solo airplane and helicopters on same day: Errick Smith

Fastest around the world flight: Caroll Ann Garratt and Carol Foy

Fastest coast to coast round trip: US pilots

Fastest team flight around the world: Swiss Pilots

Fastest transcontinental flight in a LSA: Matt Hansen and Jessica Scharle

Longest Cluster Balloon Flight: Jonathan Trappe

Longest distance flight in a helium balloon: David Hempleman

Longest distance flown in an autogyro: Norman Surplus

Friday, April 8, 2011