Friday, December 11, 2009

Highest Skydive Landing - Jai Kishan, Wendy Smith and Tom Noonan sets world record

KalaPather Plateu, KATHMANDU, Nepal -- Wing Commander Jai Kishan, a 37-year-old parachute jump instructor from the Indian Air Force, along with Wendy Smith (New Zealand) and Tom Noonan (USA), jumped from an altitude of 21,000 feet and landed at Kalapather Plateu at 17192 feet (5242 metrer)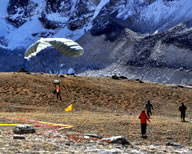 above sea level right beside Mt. Qomolangma (also known as Mt. Everest)- setting the new world record for the Highest Skydive Landing.

Photo: Jai KIshan Landing at Kala Patthar / Photos by Gorakh Bista
(enlarge photo)

"It was the fulfilment of a long dream," said Kishan, who dived with the photographs of his dead parents in his pocket in remembrance of their constant encouragement.

After exit from the helicopter, Jai had a free fall of 8 seconds and after successfully deploying his parachute he displayed the Indian tri color in the air for approximately 4 minutes.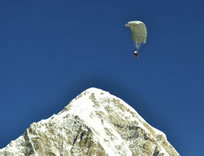 "I was flying my canopy with the Indian flag just beside the Everest and I could see the whole view the climbing route of Everest. It is a view I will always remember ", Jai added.

Photo: Jai Kishan over Pumori / Photo by Gorakh Bista (enlarge photo)

The IAF officer took loans and pledged his provident fund to raise money for the adventure, which cost between 10,000-15,000 pounds.

His partners in the stunt were New Zealander Wendy Smith, the world skydiving champion with over 18,000 dives under her belt, and American Tom Noonan, a freelance skydiving instructor.

It was a personal quest and Kishan said he was indebted to his officers from the IAF for granting him leave. The Parachute Federation of India gave him his parachute and the Aeroclub of India the altimeter used by skydivers to calculate when they should end their freefall and open the parachute.

It took him a month's preparation and planning for three years to achieve the deed. The three divers had planned to choose a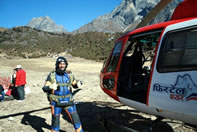 higher altitude but settled for 21,000 ft due to inclement weather.

(enlarge photo)

The dive was fraught with dangers since the divers fell through jagged peaks where strong gusts of wind could dash them to death. They had to also fly over open crevasses and a fall into them also meant death.
"I can't say I was not scared," Kishan said. "People who say they are not, are lying."

The IAF officer advised another successful diver from Nepal, Ganesh Pandey, not to think of anything when he jumped off the aircraft. "Just say Jai Pashupatinath and jump," he advised.

This new world record for the Highest Skydive Landing eclipses the world record set last month by three daredevils - Britons Leo Dickinson and Ralph Mitchell and Wing Commander Tripathi, who jumped from 20,000 ft to land at the same altitude. (see record)

Kishan said: "Indians have the passion for sports and the courage to push themselves beyond their limits," he told IANS. "In the past, we lacked exposure but now, we have awareness as well. I saw lots of Indians at the Everest base camp."

The adventure seekers Wendy Smith of New Zealand, tandem master Tom Noonan of the United States and Jai Kishan of India were members of the Everest Skydive 2009, an event organised by Explore Himalaya Travel & Adventure.

As a continuation of the Everest Skydive 2008, the Everest Skydive 2009 was organised to promote Nepal Tourism Year 2011.


Related world records:
Highest Cabinet Meeting - Nepal cabinet sets world record

Most tandem skydives in 24 hours-world record set by Chip Bowlin and Kristin Gould

Oldest Everest climber-world record set by Bahadur Sherchan

Deepest paramotoring (PPG) flight -Adi Buzan and Ionut Rites sets world record

Friday, December 11, 2009