Longest swim in a lagoon-world record set by Mauro Giaconia

San Alfonso del Mar,Chile -- Mauro Giaconia, 37, swam 101km (62 miles) in 24 hours in a marathon endurance test in the vast sea-water swimming pool of San Alfonso del Mar resort hotel-setting the world record for the Longest swim in a lagoon.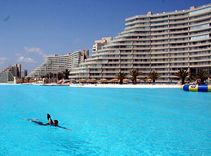 Photo: Italian swimmer Mauro Giaconia, 37, swims in the swimming pool listed as the world's largest in the Book of Records at the resort of San Alfonso del Mar, near Algarrobo city on the western coast of Chile, some 100 km (62 miles) west of Santiago. Photos Eliseo Fernandez / Reuters (enlarge photo)

The swimmer described yesterday how his tongue grew numb after hours of pushing through salt water. He expects to lose his sense of taste for up to two months – "but that usually happens with sea water," he said.

Mauro Giaconia struggled to keep swimming on course in the pool, which is itself a record holder – it is the world's largest at 1,013m (3,324ft) long. It covers an area of 20 acres and reaches as deep as 35m.

Lifeguards switched on the lights at night, but he eventually opted to swim in the dark. "I kept going with a lot of enthusiasm to do the task," he said.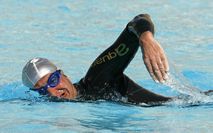 He describes himself on his website as a sportsman who "likes extreme and challenging sports, even if they mean hours of solitude". He was recently voted sportsman of the year in Palermo, Sicily. (enlarge photo)

He was only 14 years old when he began long-distance swimming in Palermo. After briefly "flirting" with kite surfing, boxing and cycling, he returned to his real passion of swimming and has spent the past eight years setting endurance records.

He has swum marathons over 12 and 24 hours in both swimming pools and the open sea, from the gulf of Palermo to the Strait of Gibraltar.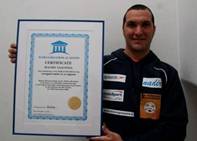 He warmed up for the record in San Alfonso del Mar, on the west coast of Chile, 80km from the capital, Santiago, by swimming three 24-hour races in Austria, Italy and the United States.
(enlarge photo)

MARATHON swimming is an endurance sport defined by the International Swimming Federation to be a swim of least 10km in length, and swimmers cannot use wet suits.

Related world records:
Youngest relay team to swim the English Channel-world record set by English swimmers

Largest swimming pool-world record set by San Alfonso pool

Most miles paddled in 24 hours on Stand Up Paddle Board -world record set by Justin DeBree

Longest Limbo Skating-world record set by Aniket Chindak

Longest basketball game-world record set by Sibiu players

Longest stationary bike riding-world record set by George Hood

Monday, December 22, 2008