Tuesday, February 15, 2011

Longest Kiss: Ekkachai and Laksana Tiranarat sets new world record (Video)

PATTAYA, Thailand -- Husband and wife team Ekkachai and Laksana Tiranarat locked lips for 46 hours, 24 minutes to celebrate Valentine's Day - setting the new world record for the Longest Kiss.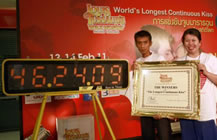 Photo: Laksana Tiranarat and her husband Ekkachai pose with a certificate after winning the World's Longest Continuous Kiss contest and set a new record at 46.24.09 hours in Pattaya, Thailand. AP Photo/Apichart Weerawong (enlarge photo)

The previous Guinness world record for the Longest Kiss was 32 hours, 7 minutes and 14 seconds. set by Nikola Matovic and Kristina Reinhart in Germany in February 2009.

Guinness World Records also recognized the longest time to kiss a car world record: 32 hr, achieved by Artur Sattelmaier (Germany), Farina Tartsch (Germany), Olivia Obstoj (Germany), Kevin Egner (Germany), Lydia Mescerinov (Germany) Kamilla Kolodziej (21) (Germany), Jennifer Odenwald (Germany), Marco Alonge (Germany) und Daniela Hamza (Germany).

The pair won a diamond ring worth 50,000 baht (£1,016) and a 100,000 baht (£2,032) cash prize.

"We didn't think we would find anybody that could break the record," said Somporn Naksuetrong, the manager of Pattaya's Louis Tussaud's Waxworks museum, which organized the competition. That seven couples apparently did, he said, "is amazing."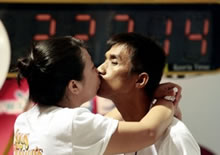 Photo: Participants Ekekachai Tiranarat, 42, and his wife Laksana Taranarat, 31, set a new World Record for the longest kiss at 46 hours 24 minutes and 9 seconds. Photo: AP (enlarge photo)

"We want to show that love is meaningful and powerful," Somporn said. "It's not easy to stand there and kiss for that long. They really have to help each other and support each other."

Thailand is still a conservative nation where kissing in public — even a small peck — is frowned upon. Participants had to show proof they were either married or truly a couple. A letter from both parents or a marriage certificate was acceptable.

The couples who took part were mainly Thai and ranged in age from 21 to 51. There was one German man with a Thai woman, and also a gay couple.

According to the Guinness World Records rules, the lovebirds' lips cannot part at any time. They are allowed to drink things like water, coffee, milk or juice - but only through straws while continuing to kiss. The harshest rule: no sitting or sleeping.

They also have to remain embraced during bathroom breaks possible every three hours - accompanied by contest monitors.

Subscribe to our free RSS News feed to receive updates.

Related world records:
Most Hugs Given in 24 Hours: Jeff Ondash

Longest Pop Song: Apparente Libertà by Giancarlo Ferrari

Longest Love Poem: 'The Evening Star'

Most Expensive Bride: Deven Trabosh

Largest slab of chocolate fudge: Lansing Community College

Largest box of chocolates: Thorntons Moments

Longest wedding dress: Ling Rong

Fastest update of relationship status: Dana Hanna and Tracy Page

Longest wedding dress: Ling Rong

Most weddings in a single day: China

Largest Bride Parade: Bucharest

Most married woman: Linda Wolfe

Longest marriage for a living couple: Herbert and Zelmyra Fisher

Largest wedding vows renewal: Pittsburg

Largest Wedding Vow Renewal: Bucharest

Most kisses in one minute: DJ Paul Winstanley

Longest kiss while standing in the window: Mexx fans

Most kisses in the skies: SkyEurope

Most simultaneous kisses: Tuzla town

Most people kissing at one time: Mexico City

Tuesday, February 15, 2011