Monday, May 16, 2011

Most people dressed as 'morphs': morphs fans sets world record (HD Video)

Drayton Manor Theme Park, UK -- 114 morph suit fans met at the Drayton Manor theme park, Staffs , setting the world record for Most people dressed as 'morphs' in one place.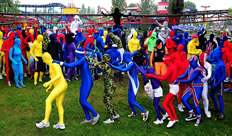 (enlarge photo)

The Guinness world record for the most people dressed as Robin Hood was 1,119 at Castle Green, Nottingham, UK.

Guinness World Records also recognized the world record for the largest gathering of people dressed as vampires, achieved by 354 participants, in an event organised by Loveland Road Runners in Loveland, Colorado, United States.

Morph suits are spandex catsuits which cover the wearer from head to toe, but are thin enough to allow them to see, hear and even drink.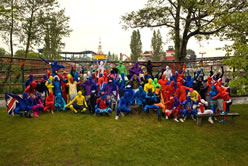 (enlarge photo)

Colin Bryant, Drayton Manor's managing director, said: "Morph suits are so popular at different events and locations that we wanted to give fans the opportunity to get together as a big group.

"It's been a wonderful atmosphere, people really enjoying themselves and it was fantastic to see big groups of brightly coloured Morphs whizzing around on the rides!"

Drayton Manor Theme Park is one of the UK's most popular attractions for families. The park is home to the amazing Thomas Land, incredible white-knuckle rides, like Apocalypse and Maelstrom, and a 15-acre zoo.

Related world records:
Largest Bikini Parade: Nashua Bikini Parade

Most Santa hat wearers in one place: Brockton

Most people dressed in green: The Green Festival
Largest gathering of Lady Gaga impersonators: E! Entertainment set world record (Video)

Largest Gathering of ABBA Impersonators: Betfair

Most people dressed as Star Trek characters: Namco Bandai Partners

Largest gathering of Santa's Elves: ABC Family

Largest Superhero Gathering: Megamind event

Largest Redhead Gathering: Redheads Festival

Largest Santa Claus parade: Portuguese City

Largest gathering of Daleks: Manchester fans

Largest gathering of storybook characters: Carrs Glen Primary School

Largest zombie gathering: Pittsburgh walk

Monday, May 16, 2011