Monday, February 27, 2012

Largest Orange Fight: Italy's Battle of the Oranges sets world record (HD Video)

IVREA, Italy--Nearly 35,000 people came out to Ivrea, Italy to re-enact the "Battle of the Oranges;" 650 people wearing medieval costumes pelted each other with oranges , setting the world record for the Largest Orange Fight, according to World Record Academy: www.worldrecordacademy.com/.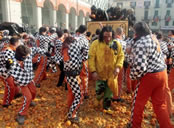 Photo: Dressed up as Middle Age kings' guards, a group of men ride in a horse-drawn carriage and pelt 'foot soldiers' with oranges as thousands of people gather to re-enact a Middle Age battle. All Photos: Reuters (enlarge photo)

The Guinness world record for the most people in a custard pie fight was 684 participants from the Drake University (USA), and was held at the Olmsted Student Center Parking lot in Des Moines, Iowa, USA.

Guinness World Records also recognized the world record for the Largest pillow fight, set by 3,706 participants at Minehead Butlins in Somerset, UK, as part of the BBC's Children in Need night.

Legend has it that back in the 12th century the daughter of a miller rejected the advances of the town's evil lord. She cut off his head and set Ivrea free from his tyranny.

The battle recalls the insurrection against the tyrant with participants split into noblemen and commoners with the oranges representing the oppressor's head.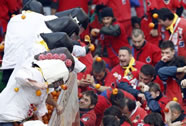 Photo: People wearing medieval costumes pelted each other with oranges. For the event, 500 tons of oranges are shipped from Sicily to the region. (enlarge photo)

In the 1930s local girls started to throw oranges along with confetti and flowers from their balconies onto the carnival parade carriages so that the boys would notice them. From the carriages the boys would throw items back.

With time the gesture of homage became first a duel and then a real fight between the throwers on the balconies and those in the streets.

Related world records:
Largest Pie Fight: Shaw Floors sets world record (Video)

Largest marshmallow fight: Taylorsville students set world record (Video)

Largest water balloon fight: University of Kentucky (HD Video)

Largest water pistol fight: Thailand (HD Video)

Largest custard pie fight: Drake University (HD Video)

Largest custard pie fight: Kidz Stuff festival

Largest tomato fight: La Tomatina

Largest Toy Pistol Fight: Washington University

Largest water balloon fight: BYU students



Monday, February 27, 2012 5:11 PM