Monday, September 19, 2011

Largest scone: CWA ladies sets world record (Video)

COWRA, NSW, Australia -- A group of Country Women's Association (CWA) ladies have just baked a massive 178kg scone at the Cowra Show - setting new the world record for the Largest scone, according to World Record Academy (www.worldrecordacademy.com).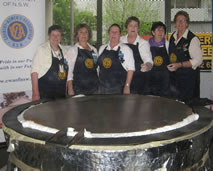 Photo: CWA members, Coral, Nelleke, Marie, Barbara, Elaine and oven builder, Craig (back), wait for the world's largest scone to cook. Photo: CWA of NSW (enlarge photo)

The Guinness world record for the largest scone weighed 119.45 kg (263 lb 5 oz) and was prepared by Shaun McCarthy (New Zealand) at Stark Park in Eltham, New Zealand. The world's largest scone measured 117 cm (3 ft 10 in) in diameter and 20 cm (7.8 in) in height.

Guinness World Records also recognized the world record for the longest pita bread, which measured 128.5 m (421.5 ft) and was made by Jana Bakers LLC, Doha, Qatar.

The scone is a small British quick bread of Scottish origin. Scones are especially popular in the United Kingdom, the United States, Canada, Australia, New Zealand, and Ireland, but are also eaten in many other countries.

The CWA State Land Cookery Committee and the State president, Elaine Armstrong, were up mixing and preparing the ingredients at 7am.

The flour was supplied by White Wings – all 111kg of it. Also used was 33 litres of milk; 4.5kg of butter, 4.5kg of castor sugar and 492 grams of baking powder.

Baking such a mammoth scone posed a lot of challenges for the CWA members, including figuring out the correct quantities of mixture needed and the best temperature to set the oven at.

Mrs Armstrong said six ladies helped mix it and it took 13 hours to cook. She said the scone was made to help raise awareness for CWA Awareness Day.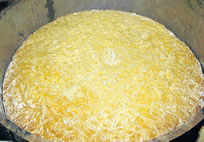 Photo: The finished largest scone in the world. (enlarge photo)

The world's largest scone was then transported to Martin Place in central Sydney to be featured on the Sunday Sunrise TV show.

Starting from humble beginnings in 1922, the CWA now boasts some 25,500 members in 1500 branches nationally, who are looking and listening for ways to improve the opportunities for women and their families in local communities.
Monday, September 19, 2011