Sunday, July 19, 2009

Largest Kunafa pastry-Muhanned al-Rabbe sets world record

NABLUS, West Bank -- Muhanned al-Rabbe, a Palestinian pastry baker, produced a 243-foot (74 meters) long, 1.05 meters wide kunafa which weighed 3,891 lbs (1,756 kg)-setting the world record for the Largest Kunafa pastry.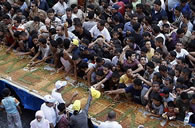 Photo: Palestinians help themselves to a piece from the world's largest knafeh in the West Bank city of Nablus / AFP (enlarge photo)

More than 100,000 Palestinians gathered in Nablus city center to watch the process and grab a bite of Knafeh-a cake sprinkled with pistachio and made of semolina, white cheese and sugary syrup sprinkled with rose water.

The ingredients are as follows: 600 kilograms of white cheese, 660 lbs (300 kilograms) of sugar, 1,540 lbs (700 kilograms) of flour, 40 kilograms of pistachios, 6 tins of cooking fat.
22 cooking gas canisters were used in baking the giant Kunafa and that the plate was 74 meters long and 1.05 meters wide, weighing 1,765 kilograms.

170 bakers from ten Nablus knafa bakeries assisted in creating the giant pastry, which cost some 15,000 US dollars. The Palestinian Standards Institute certified the measurements.

The baking of the Kunafa took six hours and Prime Minister Salam Fayyad opened it before public who gathered in the city.

"Today Nablus became not only famous as a producer of knafa, but also as producer of hope for all of Palestine," said Prime Minister Salam Fayyad, who was born in Nablus.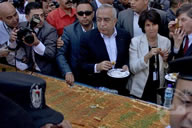 Photo: American, Tunisian, Jordanian and Egyptian representatives to the Palestinian Authority were in attendance at the unveiling of the knafa, which was set up in Nablus' central Ash-Shuhada (Martyrs) square. Photo by Ma'an News Agency
(enlarge photo)

The opening ceremony took place on the third day of Nablus' shopping festival and 500 Palestinian policemen were present to maintain order.

Nablus is one of the oldest cities in the region with a population of 135,000 people. It is famous for its Arab sweets, especially the Kunafa, and soap.

Related world records:
Largest Canned Food Structure-world record set in Wellington

Longest BLT sandwich-Bradley County Chamber of Commerce sets world record

Largest slab of chocolate fudge-Lansing Community College sets world record

Largest jambalaya-world record set by Jambalaya Festival

Largest lobster roll-world record set by Portland

Largest Peasant Omelette-world record set by Master Chef Stefan Bercea

Largest cream tea scone-world record set by Anne Tattersall

Largest Dessert Buffet-world record set by the Emirates Culinary Guild

Sunday, July 19, 2009