Smallest bodybuilder-world record set by Aditya 'Romeo' Dev

PHAGWARA, India -- At only 2 feet, 9 inches (84 cm) tall and not even 20 pounds (9.25 kg) weight, Aditya 'Romeo' Dev, 21, sets the world record for the Smallest bodybuilder.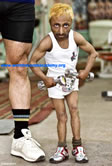 Photo:Using custom-built 1.5 kg dumbbells, Aditya Romeo, the Smallest bodybuilder pumps iron daily to prove that small is beautiful. (enlarge photo)

"I've been training as a bodybuilder for the last two years and by now I think I must be the strongest dwarf in the world," said Romeo.

"I have always been fit but since I started working out I have become famous for my strength. My size has never stopped me. I train with dumbbells and do aerobics and dance. People are always pleased to see me – I have been invited on TV shows and dance on stage."

Throngs of people crowd into the local gymnasium on a daily basis to watch him work out. In addition to his bodybuilding, Romeo Dev is also training to be a dancer.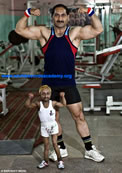 Ranjeet Pal, Romeo's trainer and a friend of his family who runs the Leo Health Club in his home town of Phagwara, says that Romeo has never let his size get in his way. "Romeo trains more or less the same as anyone else and he's much more determined," he said.
"When he first started I insisted he did a month of basic exercises like aerobics, push-ups and basic gymnastics to prepare his body.
Photo: Mini muscleman Romeo Dev, pictured with his trainer Ranjeet Pal, weighs just 1 st 6 lbs (enlarge photo)
"After that I specially made lightweight dumbbells and taught him basic weight-lifting exercises to shape his biceps and triceps. His size and his weight were taken care of so that he never hurt himself."

While most dwarfs have large heads compared to their bodies, Romeo Dev is perfectly proportioned, and despite his diminutive stature has triceps, biceps, calves and thighs that would make many a full-grown man blush.

Romeo is famous in his home country, and his father has spoken of his pride in his son's determination to overcome any difficulties in his path. "He has never been bothered at being so small. He has no inferiority complex. He is the jewel of our family."

Having made his way in to the record books, Romeo Dev says that he wants to dance on stage. "My dream is to travel a lot – I want to perform in London with my idol, Jazzy-B," he says.

According to his Web site, Romeo Dev is one of approximately 100 primordial dwarfs anywhere the world. His condition makes him susceptible to a range of medical complications.

His family fears he doesn't have long to live because he suffers from brain aneurysms and his family is too poor to finance necessary medical treatment. (If you want to donate, visit his Web site for the donation link).


Worlds Smallest Bodybuilder at Venice Beach California




Related world records:
Tallest Man-world record set by Leonid Stadnyk

Oldest competing bodybuilder-world record set by Ray Moon

Oldest Everest climber-world record set by Bahadur Sherchan

Longest Limbo Skating-world record set by Aniket Chindak

Strongest Girl-world record set by Jacqueline Wickens

Oldest woman paraglider-world record set by Peggy McAlpine

Strongest Boy-world record set by Nicholas Ortiz

Sunday, May 10, 2009