Longest Limbo Skating-world record set by Aniket Chindak

[Jan 3] BELGAUM, INDIA--A six-year-old Indian boy, Aniket Ramesh Chindak has set a new world record for the longest limbo-skating by squeezing himself under a row of 57 four-wheel drive cars in 45 seconds.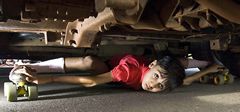 Photo:
Barcroft Media
(enlarge photo)
Aniket decided to take up limbo skating two years ago after seeing it on television.

He had been roller skating since he was 18 months old, and wanted a new challenge. "It took three months before I could get my body in the right position," he said. "Since then I have skated under lots of cars and have never hurt myself."
Aniket said: "The hardest thing is to go fast enough before I bend down. That's how you can skate under so many cars at once."

(click on photos to enlarge)

A celebrity in his home-town Belgaum in Southern Karnataka state, Aniket has an extraordinary ability to perform what is known as 'limbo-skating ' .

His family says he started roller skating from the age of 18 months and has since received many trophies and awards for his skating skills.

Now he is training four hours a day, and skating 60 miles a week in pursuit of the new challenge: he plans to break his world record of 57 cars in 45 seconds with a 100-car skate in New Delhi.

"In the future I am planning to do skating-dancing, skating-singing, and football and hockey skating too, and I want to win many prizes." Aniket said telling AP Television of his future plans.

His parents say they are not unduly worried about Aniket's safety in performing such feats and encourage him to carry on with his practice .

"He himself is so motivated and prepared for small scratches and injuries that even when he falls, he tells me 'no mummy, lets do it once again. We will do it," said Jyoti Chindak, his mother.

Aniket has got inspiration from his mother Mrs Jyoti Ramesh Chindak. As she has also made a record in Biggest Rangoli of Indian Tradition.

The record was covered by ZEE TV of Shabhash India.

Aniket has been inspired by his mother especially and his elder brothet Mr Anand Chindak who supported him to achieve this great success.

Aniket is taking training from Belgaum Roller Skating Academy by his Coach Suryakant Hindalgekar and Suhas Sir.

All the family members supported him a lot in all the activities.He is also been encouraged by his family,friends and relatives and has achived a Great Success.

Limbo-skating is something of a craze in India. Last September, three-year-old Krishna Kunwar Gahlo of Udaipur skated under a bus with a clearance height of 11in, and in October, five-year-old Uttam Gahlot, also from Udaipur, rolled under a car with a clearance height of just 6.75in, which his coach claimed to be a record in the boys' category.

In the United States, seven-year-old Zoey Beda earned the nickname Roller Limbo Princess when she succeeded in skating as low as 7in, while in 1999, six-year-old Xue Wang of Beijing performed the splits under a bar set at 5.75in.

Aniket's father Ramesh says his son is skating for more 60 miles twice a week to get in perfect condition for his record attempt.

"It took him a while to condition his body to hold the correct position – now his battle is to get the speed and control necessary for 100 cars," he said. "He wants to set a world record no one can beat for a long time."

Photos: Barcroft Media and Aniket's family archive

A date hasn't yet been set for when Aniket Chindak hopes to break the record, plans are though for some time early 2008.

But for now, the Aniket is skating 60 miles twice-a week to prepare for the new world record he is determined to set.

ANIKETs AWARDS:
1. He was awarded for BAL KALASHREE PURASKAR Award
2. Belgaum Rollers Skating Academy Championship Award.
3. S.K. Five Star Rolling Skating Championship Award at Kolhapur 4. Enter School Roller Skating Championship Award.
5. Enter School District Championship Award [100 Mtrs].
6. Lions Club of Saheli Award.
7. Rotary Club of Kolhapur Sunrise Skating Championship Award. 8. Belgaum Dist Roller Skating Association.

ANIKETs ACHIEVEMENTS
* He had been for a rally Belgaum to Bangalore [540km.].
* He also made a Non-Stop Skating for 5 hours to encourage the Indian Cricket Team while 20-20 Final Cricket Match between India Vs Pakistan. He skated Continuously from the beginning till the match wons.
* He has also skated from Belgaum to Kolhapur [120 km] to surprise his Coach on GURU POORNIMA DAY.The coach was too happy to see him coming skating from his place to take Blessings of his GURU on that special day.

SPECIAL PERFORAMCE IN SKATING
He also Performs Dance with Skating.
Also he plays hockey with Skating.

MEDIA AND NEWSPAPERS
* Anikets articles were published in these Newspapers: The New Indian Express, Deccan Herald, Karnataka Times, Sakal, Tarun Bharat,Vijay Karnataka, Kannada Prabha etc.
* Anikets live Telecast was been covered by STAR NEWS,.
* His Phonograph by STAR MAAZA.
* There was an Episode in Shaabash India of ZEE TV.
* Also his event is been shown in Aaj Tak, NDTV, Doordarshan, ETV, Local channel of Belgaum etc.

Related:
Backwards Limbo Skating-world record set by Zoey Beda

Longest Limbo Skating-Aniket Chindak sets new world record



[ Submit a world record ] [ World Record Certificate]
[ Book of World Records ] [ World Records Store ] [ Club ]



Fastest Jump Shooter in Billiards-Rocky Lane


Most 10 scores at Olympics-Nadia Comaneci

Fastest board breaking-record set by Mitch Ellis