Longest motorcycle jump-world record set by Robbie Maddison

[Jan 2] LAS VEGAS, NV,USA--Australian motocross superstar Robbie Maddison set the new world record for the longest motorcycle ramp jump by jumping his motorcycle 322 feet 7-1/2 inches over the length of a regulation football field to shatter the previous record of 277 feet at the Rio All-Suite Hotel & Casino in Las Vegas.


The jump was the first-ever Red Bull Experiment, which involves world-class athletes attempting world-first athletic achievements.

Photo:
Justin Kosman/Red Bull Photofiles
(enlarge photo)

Telecast live on ESPN's New Year, No Limits program shortly after the ball dropped in Times Square signifying 2008, Maddison hit the take-off ramp at 94 miles per hour on his Honda CR 500, reaching a height of more than 60 feet, and soared into history.

"I came here to jump a football field," said Maddison. "Conditions weren't perfect, but I'm happy with the result. Yesterday in rehearsal, I went 350 feet and I knew 360 feet was achievable. We did all we could, but the winds played a bigger factor than we planned.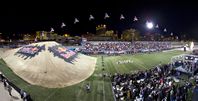 Photocredit:
Christian Pondella/Red Bull Photofiles
(enlarge photo)
But this is called the Red Bull Experiment, and we didn't know what the outcome would be. I just want to thank everyone that made this jump possible and a big thanks to all the fans who came out to support me. This is just the beginning."

A who's who of action and motorsports superstars cheered Maddo on, including Olympic gold medalist Shaun White, 2006 MotoGP World Champion Nicky Hayden, Olympic gold medalist Amanda Beard and the family of the late Evel Knievel, to whom Maddison dedicated his world record-breaking feat.

Maddison, who hails from the town of Kiama, two hours south of Sydney, has achieved tremendous success in the freestyle motocross world and is also the owner of two additional world records -- for the longest jump on a 125cc motorcycle (221 feet) and the longest jump with a trick (246 feet).

Other notable guests in attendance included five-time 500cc Grand Prix World Champion Mick Doohan, AMA Superbike racers Ben and Eric Bostrom, freestyle motocrossers Tommy Clowers, Mike Metzger and Ronnie Faisst, former motocross racer Ernesto Fonseca, X Games BMX Big Air gold medalist Kevin Robinson, skateboard legend Danny Way, big wave surf legend Ross Clarke Jones, snowboard superstar Travis Rice, NASCAR driver Scott Speed and skateboarder Jake Brown.



For additional information on Maddison and the Red Bull Experiment, please visit http://www.redbullexperiment.com



Previous world record for the Longest Motorcycle ramp jump:
Trigger Gumm (USA) jumped 277ft. 4 in. (84.5m) on a Honda CR500 at the Queensland Raceway, Ipswich, Queensland, Australia, on May 14, 2005.

Record breaker profile video: Robbie Maddison (1 of 3)


Video:FMX training with Robbie Maddison (Part 2 of 3)

FMX w/ Robbie Maddison and Metal Mulisha (Part 3 of 3)

[ Submit a world record ] [ World Record Certificate]
[ Book of World Records ] [ World Records Store ] [ Club ]



Fastest Jump Shooter in Billiards-Rocky Lane


Largest miniature railroad-Miniatur Wunderland


Fastest race around the 'World'-Rohan Veal

Most 10 scores at Olympics-Nadia Comaneci

Fastest board breaking-record set by Mitch Ellis