Oldest Everest climber-world record set by Min Bahadur Sherchan

KATHMANDU, Nepal -- Min Bahadur Sherchan, had conquered Mt Everest on May 25 last year when he was just a few days away from celebrating his 77th birthday-sets the world record for the Oldest Everest climber.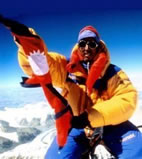 Min Bahadur Sherchan told the media that he felt the Everest was shorter than him atop the highest mountain. Sherchan's attempt was meant to inspire senior citizens, as well as the youth of his native homeland of Nepal. (enlarge photo)

The country´s president, prime minister, the ministry of tourism and all the concerned authorities in the country honored him, besides providing him with certificates.

"Many Nepalese have established records on Mount Everest," Sherchan said had told journalists. "The record for the oldest climber to reach the summit of Mount Everest should also belong to a Nepali."

Sherchan, a retired soldier, was just a few weeks from his 77th birthday. Until Sherchan's success, the only climbers over 70 to top out on Everest had been from Japan.


Min Bahadur Sherchan reached the 8,848-meter summit early in the morning with his climbing guides, said a Nepal Tourism Ministry official, Ramesh Chetri.
(enlarge photo)

The former soldier climbed smaller mountains before Everest and has been an active sportsman, Chetri said.

Pemba Dorje Sherpa, who set the record of being the fastest person to climb the Everest, was the team leader when Sherchan scaled the peak.

More than 1 400 climbers have reached the summit since Sir Edmund Hillary and Tenzing Norgay Sherpa became the first to attain the feat May 29, 1953. More than 200 others have died trying to scale the summit.






Related world records:
Oldest competing bodybuilder-world record set by Ray Moon

Oldest person-world record set by Gertrude Baines

Oldest Mother-world record set by Omkari Panwar

Oldest still performing showgirl-Dorothy Dale Kloss sets world record

Oldest college graduate in history-Nola Ochs

Oldest living man with Down syndrome-world record set by Bert Holbrook

Oldest woman paraglider-world record set by Peggy McAlpine

Friday, February 13, 2009