Oldest woman paraglider-world record set by Peggy McAlpine

[Nov 1] KYRENIA, Cyprus--Peggy McAlpine marked her 100th birthday by setting a new world record on Wednesday after paragliding from the top of a mountain range in Cyprus.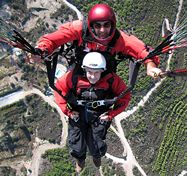 Peggy McAlpine, who has seen the reign of five British monarchs and 26 prime ministers, leapt from a 2,500-foot (760 metre) peak in the Five Finger mountains in northern Cyprus for a 15-minute tandem flight.

(enlarge photo)

"It was the most wonderful, pleasant experience and I'm ready to do it again anytime," said Peggy, who has four grandchildren and two great grandchildren.

She had already bungee-jumped with members of the Royal Parachute Regiment as an 80-year-old "youngster."

The former accountant, who has two daughters, four grandchildren and two great-grandchildren, said she felt no nerves at her birthday stunt.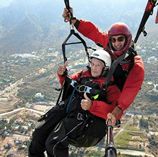 "I had a wonderful time and I would love to do it again but I will give it a few years and let someone else have a go at beating the record," she told the crowd of around 30 friends, family and press who gathered to watch the bid. "If no-one else wants a go, I'll do it again when I am 105," she told AFP.
(enlarge photo)

The attempt was watched by her daughter Elizabeth Forsyth, who was jailed in Britain in 1996 after being convicted of money laundering after the collapse of Polly Peck, headed by disgraced tycoon Asil Nadir.

Strapped into a black and red flight suit with a white crash helmet, the pensioner from Stirling, Scotland, who bungee-jumped from scaffolding aged 70, was serenaded as she came into land by a bagpiper playing Scotland the Brave.

She was handed a glass of champagne on touch-down just outside the village of Karaman by her cheering fans who toasted her success in her bid to enter the record books by become the oldest person to paraglide.

Nadir fled to Turkish-occupied northern Cyprus in 1993, which has no extradition treaty with Britain, where he is still wanted for theft of 34 million pounds (70 million dollars).