The Strongest Girl-world record set by Jacqueline Wickens

[Dec 6]ELKO, Nev,USA--13-year-old Jacqueline Wickens set a world record for her age group by deadlifting 308 pounds.Now, she's aiming for 400 pounds by the time she's 18.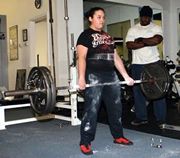 Not bad for a Spring Creek Middle School eighth-grader who didn't start lifting barbells until June and didn't begin competing until August.

Photo:Spring Creek's Jacqueline Wickens lifts 225 pounds during practice. Wickens' trainer Teddy Gray looks on. (Ryan Hope/Elko Daily Free Press) -enlarge photo

"This is just the beginning,'' her personal trainer, Teddy Gray, told the Elko Daily Free Press. ``She has just put her foot in the door. She can hold a world record for as long as the wants if she works hard enough. She's just that gifted.''

Wickens set the world record at the World Association of Benchers and Deadlifters championship in Anaheim, Calif.

She was among 11 competitors in her age group (12-13) and weight class (181 pounds), and most of the others had far more experience.

``I wanted to do one competition and see if I liked it,'' she said. ``I didn't expect to be holding records like I do now.

On her first lift, Wickens hoisted 270 pounds. She added 22 pounds and broke the previous world record of 281 pounds on her second lift. Wickens then lifted 308 pounds, but fell short in her final attempt at 314 pounds.

"I never thought I was athletic enough to do many sports," Wickens said. "When I found this, it did relieve me to find something I was good at."

Wickens is also thinking about scholarships and how it might help her achieve her goal of becoming a pediatrician. Participating and doing well in the throwing events of track and field will further help her chances.

Powerlifting, and especially deadlifting, isn't the most engaging sport. It requires a lot of repetition and discipline to do well. Workouts are often done alone and the travel to competitions is long. Music and crossword puzzles help Wickens get through the down time at competitions and while traveling.

The women's WABDL world record is 501.5 pounds set by Kayla Taueli in 2005.


[ Submit a world record ] [ World Record Certificate]
[ Book of World Records ] [ World Records Store ] [ Club ]


Strongest Ear-Lasha Pataraia


Youngest Skydiver-Valentina Mihanciu


Fastest race around the 'World'-Rohan Veal


Largest passenger plane-Airbus A380