Monday, May 16, 2011

Fastest marathon wearing a gas mask: Staff Sgt. Marc Dibernardo sets world record

SHORE, Hawaii -- Staff Sgt. Marc Dibernardo, E Company, 2nd Assault Helicopter Battalion, 25th Aviation Regiment, 25th Combat Aviation Brigade, finished the North Shore Marathon in memory of Soldiers killed or wounded in combat in 3:49:42 - setting the new world record for the fastest marathon wearing a functioning gas mask.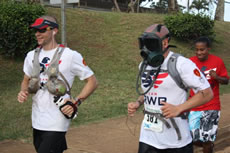 Photo: Staff Sgt. Marc Dibernardo, E Company, 2nd Assault Helicopter Battalion, 25th Aviation Regiment, 25th Combat Aviation Brigade, runs for Soldiers wounded in combat in the North Shore Marathon with assistance from members of Team Red, White, and Blue. Photo by Capt. Michael Linnington | 25th Combat Aviation Brigade (enlarge photo)

The previous Guinness world record for the fastest marathon wearing an operational gas mask was 3 hr 54 min 55 sec by Andy McMahon (UK) at the 2011 Virgin London Marathon in London, UK.

Guinness World Records also recognized the fastest half marathon wearing a functioning gas mask: 2 hr 36 min 59 sec, by Christopher Filipowski (USA) in the Brooklyn Half Marathon, New York, New York, USA.

A member of E Company, 2-25th Assault Helicopter Battalion, 25th Combat Aviation Brigade, Dibernardo runs to raise cash for the support and recovery of wounded warriors, and he's been running donned in shorts, shoes, t-shirt -- and gas mask since 2003.

Dibernardo's quick to point out - "the fallen and wounded warriors are the heroes. I'm not a hero. They're heroes," he said. "This is the best way I know how to let the world know about the sacrifices being made by our Soldiers."

While he runs for all wounded warriors - Sailors, Airmen, Marines and Soldiers, Dibernardo's participation in the North Shore Marathon on May 1, 2011, was in memory of 10 friends he lost either in Afghanistan or who succumbed back home from their combat wounds.

Sponsored by Team Red, White and Blue, a non-profit organization that aids wounded warriors by sponsoring extreme athletes, Dibernardo helps the team with a unique support system for veterans, families and friends recovering from injuries received from combat operations.

Donations raised by the team are used to fund the reintegration of wounded warriors back into the civilian world after being released from the hospital or military.

In addition to his team sponsors, members from the battalion chain of command rallied behind him.

"I'm very proud of him, it's an outstanding thing what he's doing and a great reason why he's doing it," said 1st Sgt. Henry Wood.

"I'm really proud of him it's incredible what he is doing running a marathon and in a gas mask. We let him do his own training during physical fitness time," added his company commander Capt. Lindsay Maples.

Related world records:
Military world records

Fastest 100 x 5 km relay: The Charlotte Running Club

Heaviest Person to Complete a Marathon: Kelly Gneiting (Video)

Fastest mile in a bomb suit: SSgt Owen Duff

Fastest Mile in a Bomb Suit: SSG Eric Johnson

Fastest running nonagenarian: 95-Year-Old Ida Keeling (Video)

Most marathons run on consecutive days: Stefaan Engels

Fastest running centenarian: Miyazaki Hidekichi

Most consecutive push-ups: wrestler Munir Ahmed

Fastest Human Crab Walker: Cameron Jones

Oldest female marathon finisher: Gladys Burrill

Largest Resistance Band Class: Sheraton New York

Most marathons in a year: Yolanda Holder

Largest physical education class: Ga. students

Most fitness records broken in a day: Stephen Buttler

Longest distance run in 365 days: Serge Girard

Fastest Mile in a Bomb Suit: SSG Eric Johnson

Longest distance run in seven days on a treadmill: Mimi Anderson

Fastest Lunge Mile: Jamasen Rodriguez

11 marathons in 11 days: Kalyn Jolivette

Youngest coach of an Olympic women's marathon winner: Valeriu Tomescu

Oldest Olympic women's marathon winner: Constantina Dita

Longest Non-stop walking hill marathon: Emil Ilic

Fastest 10K race: Hillary Kimaiyo

Highest Standing Box Jump: Ryan Moody

Fastest mile in a bomb suit: Lt. Jonathan Kehoe

Longest solo run around US perimeter: Reza Balunchi

Monday, May 16, 2011