NEW WORLD RECORD
Fastest mile in a bomb suit - SSgt Owen Duff sets world record


Fastest mile in a bomb suit-world record set by Lt. Jonathan Kehoe

CAMP ECHO, Iraq-- Navy Lt. Jonathan Kehoe, commander, Platoon 602, 63rd Battalion, EOD Mobilization Unit 6, based out of Little Creek, Va., and attached to 2nd Brigade Combat Team, 4th Infantry Division, completed the mile in a bomb suit in 10 minutes and 13 seconds, setting the world record for the Fastest mile in a bomb suit.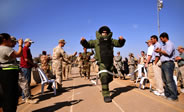 Photo: With a crowd of their Iraqi EOD counterparts, servicemembers and U.S. contractors cheering him on, Kehoe completed the mile in 10 minutes and 13 seconds, beating his target time by almost three minutes. U.S. Army photo by Sgt. Rodney Foliente (enlarge photo)

"We did some brainstorming and came up with the idea of setting the new World Record for the fastest one-mile bomb suit run." says
Navy Lt. Jonathan Kehoe.

Kehoe trained for the event for two months, with EOD members from both nationalities encouraging and helping him during that time.

"People don't realize how much physical training we go through as EOD. He made us all proud. With the crowd cheering and all, it gave him a big boost. He surpassed what I expected," said EOD 2 William Young, Plt. 602., who hails from Belle Plaine, Kan.

Servicemembers and most runners probably would not be very impressed with a mile run in just over 10 minutes. But, add to the equation a 75-pound bomb suit made of stiff material, factor in the added heat from wearing it and add a pair of rubber over-boots; and it becomes a different story.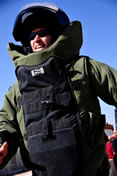 The heavy-plated bomb suit is designed to protect its wearer from an explosion. Its stiffness allows for enough dexterity and agility to accomplish their missions, but was never designed for fast, sustained movement. (enlarge photo)

But the true purpose of the event was to draw a crowd for a fund-raiser benefitting the EOD Memorial and Scholarship Foundation and to commemorate fallen EOD members.

"We as a team decided we wanted to do something special for the EOD memorial," added Kehoe, who comes from Leadville, Colo.

"The EOD memorial celebrates the lives of those (EOD members) who've made the ultimate sacrifice to bring the freedom that (many) take for granted every single day. It's a tribute to them and our way to give back to their Families and show them that we're thinking of them."

The memorial, located at Eglin Air Force Base, Fla., was constructed in 1999 and features the names of the fallen EOD members since the declaration of World War II.

"I just wanted to tell the family members of those who have given the ultimate sacrifice that we pray for you every day and we can never do enough to thank you," finished Kehoe.

Related world records:
Largest Human Ribbon-world record set in Fort Knox

Fastest 5,000-meter run with a 40-pound rucksack-world record set by Dustin McClure

Most hours spent flying the F-16 -Air Force pilot sets world record

The Largest Flag- The American Flag of "Ski" Demski

Wednesday, February 11, 2009