Wednesday, December 24, 2014

Smallest washing machine: Ashley Newland breaks Guinness World Records' record (VIDEO)

SYDNEY, Australia -- The Scrubba is a washing bag which works on the same principle as an old-fashioned washboard; invented by the Sydney man Ashley Newland, the bag itself is waterproof, so you pop your clothes inside, add water and detergent, seal the bag up tightly and then rub your clothes against the flexible washboard contained within the bag; at just 140 grams it sets the new world record for the Smallest washing machine, according to the World Record Academy: www.worldrecordacademy.com/.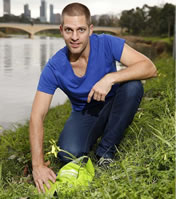 Photo: As a modern and convenient take on the old fashioned washboard, the Scrubba wash bag enables you to achieve a machine quality wash in just minutes. Perfect for holidaymakers, business travelers, backpackers or even for washing gym and cycling gear. Plus, as the new bright green Scrubba wash bag weighs less than 145g (5 oz.) and folds to pocket-size it is small enough to take anywhere. (enlarge photo)

The Guinness World Records' record for the smallest washing machine measures 256 x 278 x 382 mm (10.08 in x 10.94 in x 1 ft 3.04 in) and was manufactured by Qingdao Haier Washing Machine Co.Ltd (China) and was unveiled in Qingdao City, Shandong Province, China, on 18 May 2011. The net weight of the washing machine is 5.33 kg (11 lb 12 oz), with the normal washing capacity of 0.15 kg (0 lb 5.29 oz).

Guinness World Records also recognized the world record for the most people hand-washing fabric simultaneously (single location); it is 2,132 and was achieved by Breeze-Unilever (Philippines) in Makati, Philippines, on 17 August 2013.

The bag can comfortably wash two t-shirts, two pairs of underwear and two pairs of socks at one time. A load of washing needs to be rubbed around in the bag for three minutes, but if there are stubborn stains it's a good idea to let the clothes soak for a few hours.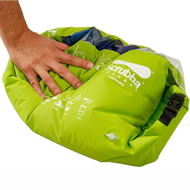 Photo: The scrubba has an internal washboard built in and can hold up to 30 litres of water
(enlarge photo)

The invention, which Forbes magazine listed as one of its '10 greatest travel products' in 2012, has travelled with Mr Newland across three continents and has sold to distributors and individuals across 50 countries.

Mr Newland has used his expertise in patent law to secure patents in Australia and New Zealand, and patents pending in another 52 countries.

Related world records:
Smallest library: Canadian library sets world record despite Guinness' rejection (VIDEO)

Smallest cinema: Reginald Harding breaks Guinness world record (VIDEO)

Smallest book reproduction: SFU lab breaks Guinness world record (VIDEO)

Smallest printed book: Japan breaks Guinness world record

Smallest aquarium: Anatoly Konenko sets world record (HD Video)

Smallest ad: Gillette set world record (Video)

Smallest Apartment: Tiny Manhattan Apartment (Video)

Smallest Christmas card: University of Glasgow set world record

Smallest Piaggio Ape Cross Model: Andrew Andrighetti

Smallest 'snowman': National Physics Laboratory

Smallest violin: Chen Lianzhi

Smallest Tattoo of a painting: Wingnut

Smallest cinema: Market Cinema

Smallest car: Perry Watkins

Largest collection of handmade aeroplanes: John Kalusa

Smallest Museum: Edgar's Closet Museum

Smallest snake: Leptotyphlops carlae

Smallest Helicopter: GEN H-4