Tuesday, March 13, 2012

Largest Bikini Parade: Panama City sets world record (Video)

PANAMA CITY BEACH, FL, USA--450 bikini-clad women gathered in Panama City Beach, Fla., to walk the parade route from Harpoon Harrys to the Miller Pier and back, which spans about a mile - setting the new world record for the Largest Bikini Parade, according to World Record Academy: http://www.worldrecordacademy.com/.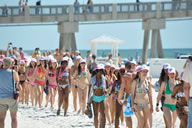 Photo: A group of 450 women gathered on Panama City Beach to break the world record for the "World's Largest Bikini Parade". All Photos: Panama City Beach CVB (enlarge photo)

The Guinness world record for the largest bikini parade was achieved by 357 participants at an event organised by The Gold Coast Bulletin (Australia) on the beach in Surfers Paradise, Gold Coast, Queensland, Australia.

Guinness World Records also recognized the world record for the largest bikini photo shoot; it involved 3,090 participants for an event organised by Huludao Municipal Goverment, on Longwan Beach,Huludao, Liao Ning Province, China.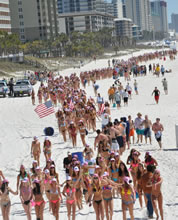 Participants traveled from as far away South Dakota, Alaska and Maine to be in the record-breaking parade.

(enlarge photo)

The Bay County Tourist Development Council came up with the idea to promote the area and get more tourists to the beach.

Parade organizers are donating $1,000 (...?!) to Beach Care Services, which provides short-term emergency assistance to people in need who live on Panama City Beach.

Related world records:
Most people wearing paper hats: Leeds pupils sets world record

Most people dressed in white for a cause: Castle Lite sets world record (Video)

Largest gathering of Christmas jumper wearers: Ireland

Most people in a nativity scene: Welton Baptist Church

Most people dressed up as turkeys: Dallas Turkey Trot (Video)

Largest gathering of skeletons: Jokers' Masquerade (HD Video)

Most People Dressed as Video Game Characters: Buyseasons Inc. (Video)

Largest underwear parade: Utah Undie Run (HD Video)

Most People Dressed as Superman: Nexen staff set (Video)

Longest bikini parade: Australia (Video)

Most costumed riders on a theme park ride: Dorney Park (HD Video)

Most people dressed as sunflowers: Thorndown School set world record

Largest gathering of pirates: Penzance (Video)

Most people dressed as smurfs: Smurfs Day (HD Video)

Most People dressed as Sunflowers: Siren (Video)

Largest gathering of people dressed as Wally/Waldo: Cork (Video)

Largest gathering of people dressed as storybook characters: Chiswick House School sets world record

Largest Blonde Parade: Go Blonde Festival (HD Video)

Largest gathering of people wearing masks: Angel fans (HD Video)

Most people dressed as 'morphs: Drayton Manor theme park (HD Video)

Largest Bikini Parade: Nashua Bikini Parade

Most Santa hat wearers in one place: Brockton

Most people wearing a frog mask: Texas Tech students (Video)

Tuesday, March 13, 2012 5:13 PM