Monday, December 5, 2011

Largest gathering of Christmas jumper wearers: Ireland sets world record

DUBLIN, Ireland -- During the inaugural Geansai Nollaig Day in Dublin City Centre, 583 people donned their best festive jumpers - setting the new world record for the Largest gathering of Christmas jumper wearers / Most people wearing Christmas jumpers in one place, according to World Record Academy (www.worldrecordacademy.com).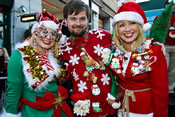 All Photos: courtesy Maxwells Dublin
(enlarge photo)

The Guinness world record for the largest gathering of people dressed as snowmen was 333, in an event organised by Hope House Children's Hospices (UK) in Oswestry, Shropshire, UK.

Guinness World Records also recognized the world record for the most lights lit simultaneously on a Christmas tree: 194,672 - achieved by Kiwanis Malmedy / Haute Fagnes Belgium in Malmedy, Belgium.

Many opted for traditional woollen jumpers featuring snowmen and reindeer, while others were more adventurous with tinsel and glitter-glue, creating their own designs.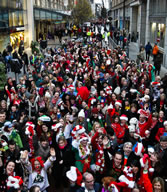 (enlarge photo)

Geansaí Nollaig Day was set up by the Dublin City Business Improvement District to raise funds for children's charity, Barretstown, and to boost the Christmas mood in the capital.

BID chief executive Richard Guiney said he was delighted at the turnout.
"It's a great testament to the Irish sense of humour and also an excellent way to get people together and have fun," he said.

Related world records:
Most people in a nativity scene: Welton Baptist Church

Most people dressed up as turkeys: Dallas Turkey Trot (Video)

Largest gathering of skeletons: Jokers' Masquerade (HD Video)

Most People Dressed as Video Game Characters: Buyseasons Inc. (Video)

Largest underwear parade: Utah Undie Run (HD Video)

Most People Dressed as Superman: Nexen staff set (Video)

Longest bikini parade: Australia (Video)

Most costumed riders on a theme park ride: Dorney Park (HD Video)

Most people dressed as sunflowers: Thorndown School set world record

Largest gathering of pirates: Penzance (Video)

Most people dressed as smurfs: Smurfs Day (HD Video)

Most People dressed as Sunflowers: Siren (Video)

Largest gathering of people dressed as Wally/Waldo: Cork (Video)

Largest gathering of people dressed as storybook characters: Chiswick House School sets world record

Largest Blonde Parade: Go Blonde Festival (HD Video)

Largest gathering of people wearing masks: Angel fans (HD Video)

Most people dressed as 'morphs: Drayton Manor theme park (HD Video)

Largest Bikini Parade: Nashua Bikini Parade

Most Santa hat wearers in one place: Brockton

Most people wearing a frog mask: Texas Tech students (Video)

Most people in a mustache contest: The Newport Winter Carnival

Most people dressed in green: The Green Festival
Most people dressed as Star Trek characters: Namco Bandai Partners

Largest gathering of storybook characters: Carrs Glen Primary School

Monday, December 5, 2011