Wednesday, February 15, 2012

First car with a wood burning stove: Pascal Prokop sets world record (Video)

Mettmenstetten, Switzerland-- 38-year-old Swiss Pascal Prokop drives a 1990 Volvo 240 which has a fully-functional wood burning stove in it , setting the world record for the First car with a wood burning stove, according to World Record Academy: www.worldrecordacademy.com/.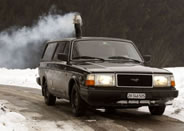 Photo: Pascal Prokop, a Swiss man, has built a wood-burning stove in his car to combat the severe cold hitting Europe.
All Photos: Arnd Wiegmann/Reuters (enlarge photo)

The Guinness world record for the Highest vehicle mileage was set by A 1966 Volvo P-1800S owned by Irvin Gordon of East Patchogue, New York, USA, which had covered in excess of 4,586,630 km (2,850,000 miles) by December 2010. The car is still driven on a daily basis and covers over 160,000 km (100,000 miles) per year, thanks in part to being driven to numerous car shows and events in Europe and the USA.

Guinness World Records also recognized the world record for the largest parade of Volvo cars: 570, achieved by Volvo Forum in association with Auto Boss (Poland) in Katowice, Poland.

Pascal Prokop replaced the passenger seat of his 1990 Volvo 240 station wagon with a wood-burning stove.


Photo: Pascal feeds the wood burning stove with a fistful of kindling
(enlarge photo)

He decided to install the contraption after the car's heater broke.

He has taken the passenger seat out of the vehicle in order to accommodate the massive heating device and added a chimney to prevent carbon monoxide poisoning from being a problem.

Related world records:
Most people crammed into a Mini Cooper: Eastbourne fundraisers sets world record

Longest bumper car marathon: Sylvia Wayfer (Video)

First carbon-composite passenger jet: Boeing 787 Dreamliner (HD Video)

Largest Car Wash: CARSTAR sets world record (Video)

Best selling two-seat sports car: Mazda MX-5

Most People Crammed in a BMW Mini: Dance company

Most popular car color: Silver - 2010's most popular car color

Most People Crammed Into A Smart Car: Female students

Oldest driver - Verna Truax

Longest rail tunnel - The Gotthard Base Tunnel sets world record

Most cars washed by a school: Bloomington High School South

Longest traffic jam: 60-mile, 11-day Chinese traffic jam sets world record

First Flying Car - The Terrafugia Transition sets world record

Most attempts to pass driving test - Cha Sa-soon

Most toys on a car: Bruce Mitchelson

Wednesday, February 15, 2012