Saturday, November 19, 2011

Cheapest sandwich: The toast sandwich sets world record

LONDON, UK -- The toast sandwich – which consists of a slice of toast between two slices of bread – is a recipe that dates back to the Victorian age and has 330 calories; at just 7.5pa serving, it sets the world record for the Cheapest sandwich, according to World Record Academy (www.worldrecordacademy.com).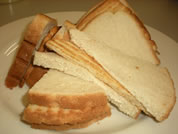 Photo: At just 7.5p a serving, a toast sandwich is the World's cheapest lunch option. (enlarge photo)

The Guinness world record for the most expensive sandwich commercially available is von Essen Platinum Club Sandwich, created by Chef Daniel Galmiche (UK) and is available on the menu of Cliveden, Buckinghamshire, UK for £100 ($200).

Guinness World Records also recognized the world record for the largest sandwich weighed 5,440 lb (2,467.5 kg) and was made by Wild Woody's Chill and Grill, Roseville, Michigan, USA.

For a toast sandwich, take a very thin slice of bread and toast it. Once cold place it between two slices of bread, also sliced very thinly. Butter optional. Salt and pepper to taste.

The World's cheapest sandwich – a slice of toast between two pieces of buttered bread, with salt and pepper – has 330 ­calories, 9.5g of protein, 12g of fat, 55g of carbohydrate and vitamins A, B1, B2, B3 and D.

Britain's Royal Society of Chemistry have offered £200 ($316) to anyone who can find a cheaper alternative.

The sandwich, taken from the Mrs Beeton's Book of Household Management, which was a best seller 150 years ago, reportedly costs only 7.5 pence (15.5 cents).

"You simply put a piece of dry toast between two slices of bread and butter, with salt and pepper to taste. I've tried it and it's surprisingly nice to eat and quite filling", the society's Dr John Emsley told the BBC.
"I would emphasise that toast sandwiches are also good at saving you calories as well as money, provided you only have one toast sandwich for lunch and nothing else."

The cheapst sandwich in the world has 330 calories, although margarine could be used instead of butter for the even more health conscience.

Related world records:
Largest BLT Sandwich: Iron Barley set world record (HD Video)

Largest open sandwich: Fremont (Video)

Longest BLT sandwich: Associated Wholesale Grocers (Video)

Longest 'Classic' Sandwich: Hellmann's Light (HD Video)

Largest fast-food chain: Subway

Longest Ham and Cheese Sandwich: Singapore students

Most expensive cheese sandwich: Chef Martin Blunos

Largest sandwich wrap: Union-Snyder County Habitat for Humanity

Largest 'Torta' Sandwich: Mexico City

Largest Open Sandwich: Tommy Moore

Longest ham sandwich: Nico Jimenez

Longest BLT sandwich: Bradley County Chamber of Commerce

Longest ostrich sandwich: Iran

Longest BLT sandwich: Windsor High School Culinary Arts

Tallest sandwich: Hotel Uday Samudra

Saturday, November 19, 2011