Friday, January 6, 2012

Tallest suspension bridge: Mexico's Baluarte Bridge sets world record (Video)

Mexico -- The 403m (1321ft) tall Baluarte bridge spans a deep ravine in the Sierra Madre Occidental mountains in the north - setting the new world record for the Tallest suspension bridge, according to World Record Academy (www.worldrecordacademy.com).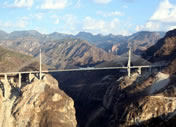 Photo: The Baluarte Bridge is officially the highest suspension bridge in the world. The 403m (1,322ft) tall cable-stayed bridge is so lofty the Eiffel Tower would easily fit under its central span. Photo: Reuters (enlarge photo)

The Guinness world record for the tallest bridge was set by the 2,460-m (8,070-ft) long Millau Viaduct across the Tarn Valley, France, which is supported by seven concrete piers, the tallest of which measures 244.96 m (804 ft) from the ground to the road deck.

Guinness World Records also recognized the world record for the Longest Footbridge, set by the 2.06-km (6,767-ft, or 1.28-mile) Poughkeepsie Bridge (also known as the Walkway Over the Hudson State National Park) in New York, USA.

The World's Tallest Bridge is part of a new highway crossing some of Mexico's most rugged terrain, from Mazatlan on the Pacific Coast to Durango in the interior.
The opening of the 1,124m (3,687ft) long bridge is part of celebrations to mark 200 years of Mexico's independence from Spain, says the BBC.

The massive infrastructure project consists of 152 steel suspenders supporting over 1100 meters of 20 meter wide roadway, with a central span of over 520 meters.
Its four lanes are held up by two 400 meter towers – tall enough to house the Eiffel Tower – which bring the structure its impressive world record credentials.

The bridge is part of the Durango-Mazatlan highway, built at a cost of more than 20 billion pesos ($A1.42 billion) and the most significant road project during Mr Calderon's six-year term, which began in December 2006, the transportation ministry said in a statement.

The $1.42 billion project is 86 percent complete, and will be finished by the end of January.

Mr Calderon supervised construction work on the bridge on Thursday along with the governors of Sinaloa and Durango and said that it would provide an economic boost to both states.

"With developments in infrastructure, we'll continue to achieve the targets established during my term,'' the President said.

Related world records:
Largest Ten Commandments: Philippines

Longest outdoor escalator: Medellin (Video)

Steepest roller coaster: The Takabisha (HD Video)

Longest bridge over water: China's Qingdao Haiwan Bridge

Tallest Jesus statue: Christ the King Monument

Furthest Leaning Man-made Tower: The Capital Gate

Longest bridge fountain - Banpo Bridge

Longest bridge made from plastic bottles set world record

Largest Paper Brick House set world record

Largest Hindu Temple-The Akshardham Temple

Longest cable-stayed bridge-the Sutong Bridge

Friday, January 6, 2012