Longest cable-stayed bridge-the Sutong Bridge sets world record

NANJING, China-- The Sutong Bridge, a cable stayed bridge that spans the Yangtze River, between Nantong and Changshu, has a span of 1,088 metres (3,570 ft) and sets a world record for the longest span cable-stayed bridge.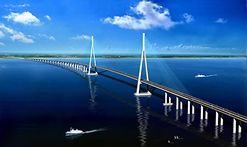 Photo: The Sutong Bridge lies between Nantong City and Changshu in the east of Jiangsu province and will become part of the national key trunk route./
photo: XINHUA
(enlarge photo)

"The main navigational opening is 62 meters in height and 891 meters wide, which allows the passage of huge vessels with a cargo capacity up to 50,000 tonnes," said Wu Shouchang, chief engineer of the construction headquarters.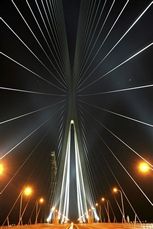 The all-China project is a six-lane expressway designed for maximum speeds of 100 kilometers per hour. The Sutong Bridge will cut travel times from Shanghai to Nantong from four hours to one hour.

Photo: The bridge also has world's highest bridge tower / XINHUA (enlarge photo)

Construction began in June 2003 and bridge was linked up in June 2007. The bridge was opened to traffic on May 25, 2008[2] and was officially opened on the 30th June, 2008.

The Sutong Bridge runs 32.4 kilometers, with a total investment of around 8.5 billion yuan (about $1.7 billion).

"The bridge is a good demonstration of China's scientific achievements in bridge construction over the past years," said Wu.

Up to 30,000 vehicles a day crossed the bridge during the trial, the Xinhua news agency reported.
You Qingzhong, provincial director of transportation, said The Sutong Bridge was expected to ease navigation problems caused by ferries in the Yangtze estuary and promote economic growth in the Yangtze River Delta.

The project's chief engineer Wu Shouchang said the 1.15-billion-dollar bridge, which overtakes Japan's 890-meter (2,900-foot) Tatara Bridge as the longest of its kind, is a feat of modern Chinese engineering.

The Sutong Bridge, 108 km (67 miles) upstream from the mouth of the Yangtze River, joins the national highway network on both banks, Xinhua said.

The bridge is supported by soaring steel and concrete towers that stand 300 meters tall.

The previous record holder, the Tatara Bridge in Japan, has a main span of 890 meters.

... Around 150,000 bridges had been built in China over the past 15 years, an average of 10,000 a year, said Xu Kuangdi, president of the Chinese Academy of Engineering.

The bridges, with a total distance of more than 8,300 kilometers, include road and railway bridges, cloverleaf intersections in big cities, and 156.7 kilometers of bridges built on frozen ground for the Qinghai-Tibet railway.

The Sutong Bridge claims four world records: largest main span, the deepest foundation, the highest pylon and the longest stayed cable.
The largest main span: 1088m; The Sutong Bridge is 200m longer than that of Tatara Bridge in Japan.
The deepest foundation: Steel casing depth: 120m
The highest pylon: The pylon is over 300m; North and south pylon are the essence of Sutong Bridge, as all load needs to be first transferred to pylon leg, then to the foundation. This means high accuracy of pylon construction.
The longest stayed cable: 577m. The stay has a dead weight of 59 tons and service life of 50 years. It is superior to similar products from abroad from quality and service life point of view.

July 2nd, 2008 Photos: XINHUA

World's longest span cable-stayed bridge video