Largest Hindu Temple-The Akshardham Temple

[Jan 4]NEW DELHI,India--The Akshardham temple in Indian capital New Delhi measures 356 ft. long, 316 ft. wide and 141 ft. high, covering an area of 86,342 sq. ft. and has set the world record for the Largest Hindu Temple.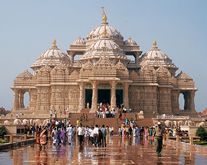 The grand, ancient-style, ornately hand-carved stone temple has been built without structural steel within five years by 11,000 artisans and volunteers.
(enlarge photo)

His Holiness Pramukh Swami Maharaj, revered spiritual leader of BAPS, consecrated the temple on 6 November 2005.

Spread over 30 acres, the temple was opened to public two years ago and now gets over one lakh people visitors every week.It draws 8,000 visitors on an average everyday.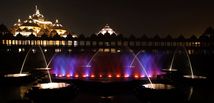 This complex is surrounded by a sacred water lake, Narayan Sarovar which contains holy waters from 151 rivers and lakes sanctified by Bhagwan Swaminarayan, including Mansarovar.
(enlarge photo)

Consecrated on November 6, 2005, by Pramukh Swami Narayanswaroopdas of temple trust Bochasanwasi Sri Akshar Purushottam Swaminarayan Sanstha (BAPS), the temple has 234 ornately carved pillars, nine domes and 20 quadrangular shikhars.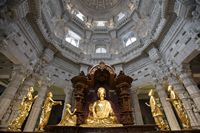 It is home to the idols of all the 24 avatars (incarnations) of Hindu god Vishnu, not the usual 10 as is believed. The temple, according to officials, has 208 sculptures of the almost all Indian deities like the Radha-Krishna, Sita-Ram, Parvati-Mahadev, Laxmi-Narayana, Revati-Balram, Savitri-Brahma, Nar Narayan and Aksar-Purushottam.
(enlarge photo)

Around 7,000 artisans from Rajasthan, Orissa and Bengal carried out the intricate carving on the walls. A specialty of the temple is that no steel was used in its construction. "Steel leads to corrosion due to harsh weather conditions which in turn leads to reduced life of the structure," said Janakbhai Dave, temple's public relation officer.

'In 2000, we were told by our spiritual teacher that a temple had to be built on the banks of the Yamuna. Initially, we gathered 1,000 stone crafters. They were not enough and so we then told them to bring all their male relatives, teach them the art of crafting stones, as the skill is inherited, and hired them as artisans.'

A visitor's view (Blogreen):
The complex is such a grandeur which epitomises 10,000 years of Indian culture. It is a rare example that showcases the essence of India's ancient architecture, traditions and timeless spiritual messages. The Akshardham experience is an enlightening journey through India's glorious art, values and contributions for the progress, happiness and harmony of mankind.

Entry Formalities
Only small female purses or male wallets allowed.Cell phones and other electronic devices are prohibited. Entry to the complex is free. But for exhibitions and light and sound show inside the complex, one has to take tickets.


[ Submit a world record ] [ World Record Certificate]
[ Book of World Records ] [ World Records Store ] [ Club ]



Fastest Jump Shooter in Billiards-Rocky Lane


Largest miniature railroad-Miniatur Wunderland


Fastest race around the 'World'-Rohan Veal
Fastest board breaking-record set by Mitch Ellis