Longest bridge made from plastic bottles set world record
[July 14] City of Ely,UK--The 36 metre (118.110 feet) spectacular bridge made from 14,100 plastic milk bottles by the City of Ely residents headed by Mayor Ron Bradney set a world record for "The longest bridge made from plastic bottles".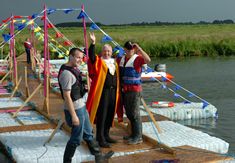 The temporary structure was the creation of Ely resident and former district councillor Jack Waterfall, who wants to highlight the need to recycle.

(click here to enlarge photo)

The bridge represents the amount of plastic people in Cambridgeshire use each day by lunchtime.

"The bridge was supported by 4 pint plastic bottles and my progress from one side of the River Ouse to the other was recorded. I did get wet but only from rain" said Ron Bradney, The City of Ely Mayor,in a message for the World Record Academy. The bridge designer and constriction engineer was Jack Waterfall.

The Ely city's mayor, Ron Bradney, was first to cross the Great Ouse on it. He set a second world record, for the longest walk on a bridge made from plastic bottles.

The new world record will be featured in the 2008 edition of the Book of World Records and an official Certificate will be issued to the Mayor Bradney.
The project has also received support for building the bridge sections from St Mary's Primary School, Ely, the Isle of Ely Explorers at Sutton Gault and Witchford's Rackham Primary School.
Crowds flocked to see the bridge put in place after watching Ely's third annual Classic Regatta.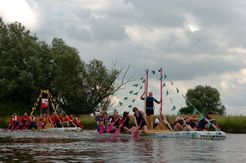 The regatta saw four milk bottle rafts, each with four oarsmen and a drummer competing in a race.

(click here to enlarge photo)

Huntingdon Boat Club won, beating off teams from S & Y Haulage, Huntingdon Sea Cadets and a team consisting of members of Ely and District Venture Scouts and the Isle of Ely Rowing Club.

A series of more orthodox rowing races took place throughout the day as well as sailing demonstrations from junior and novice members of Ely Sailing Club. Trophies were presented to the winners in the evening.

Organiser Jack Waterfall said: "We had what I would call 'character building' weather which gave us challenges throughout the day, but we managed to have a good time and achieve our objectives."

The world record plastic bottles bridge was removed and stored to be used as a pontoon for trainee rowers.

Media reports:

Mayor walks on water – could it be a record?

Record breakers have got bottle!

Who's got the most bottle?

World record bridge attempt is on target