Monday, July 11, 2011

Steepest roller coaster: world record set by The Takabisha (HD Video)

YAMANASH, Japan -- Japan's amusement park Fuji-Q Highland unveiled "The Takabisha", a roller coaster which has a 43 meter drop and a 121-degree freefall, and accelerates to 100 mph - setting the new world record for the Steepest roller coaster made from steel.


Photo: Engineers in Japan have created The Takabisha, a roller-coaster that hurtles towards the earth at almost 100 km/h from a height of 43m at the heart-stopping angle of 121 degrees. All Photos: AFP (enlarge photo)

The previous Guinness world record for the steepest roller coaster made from steel was Le Timber Drop which measures 113.1 degrees and was verified at the Fraispertuis City amusement park, in Jeanmenil, France.

Guinness World Records also recognized the highest roller coaster: the Tower of Terror, a sit-down, steel rollercoaster standing 377 ft 4 in (115.01 m) tall at the Dreamworld amusement park in Queensland, Australia.

The ride lasts for just 112 seconds but is packed with jaw-dropping features including seven twists, blackened tunnels and a 43 metre high peak.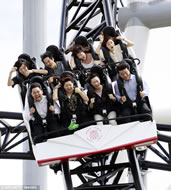 But the most impressive thing about Takabisha is the freefall at 121 degrees, so steep that it has just been recognised as the steepest rollercoaster made from steel.
(enlarge photo)

It is the 14th Guinness World Record set by Fuji-Q, which is one of the leading amusement parks in the world for thrill-seekers.

Related world records:
Longest rollercoaster marathon: Richard Rodriguez

Tallest roller coaster model: Branden Moyer

Longest bridge over water: China's Qingdao Haiwan Bridge

Tallest Jesus statue: Christ the King Monument

Largest indoor theme park: Ferrari World

Largest Aquarium: The Georgia Aquarium

Largest Portable Hammock: Hansy Better Barraza

Largest Clock: The Royal Mecca Clock

Largest mechanical clock: Ganzhou clock

Furthest Leaning Man-made Tower: The Capital Gate

Largest Ice Maze: Buffalo

Largest Igloo: 'Bigloo'

Largest Urn: Richard Cohen Landscape & Construction Inc.

Largest Solar Energy Building: Chinese "Sun Dial"

Largest Performing Fountain: Dubai Fountain

Tallest building: Burj Dubai

Largest floating restaurant: Rustar dhow

Largest cinema screen: Pinewood Studios

Largest Floating Christmas Tree: Rio de Janeiro

Tallest artificial Christmas tree: Mexico City

Largest monument to the Turkey: Frazee City

Monday, July 11, 2011