Sunday, December 6, 2009

Tallest artificial Christmas tree-Mexico City sets world record

MEXICO CITY, Mexico -- A 295 feet (90 m) tall, 114-foot-wide artificial Christmas tree structure made of steel wires was erected on Reforma Avenue in Mexico City-setting the new world record for the Tallest artificial Christmas tree.

By day, the 114-foot-wide tree, located two blocks from the American Embassy, displays the red, white and blue colors "because it's a Pepsi tree," said Go Entertainment President Julio Galman, who is directing the project.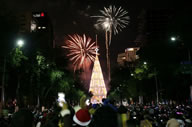 But he said it will look different when they flip the switch to turn on all 72 kilometers of small lights and 600 strobe lights Saturday night.
Photo: Fireworks explode near the Tallest artificial Christmas tree .Photo REUTERS/Eliana Aponte
(enlarge photo)

"We don't know why it's red, white and blue," said architecture student Ana Ortiz, 24, as she snapped photos of the tree with her boyfriend Friday afternoon.

"It looks strange. It isn't a Mexican color, and Christmas trees are always green," said Juan Carlos Bautista, 32, for AP.

Not to be outdone by Pepsi, rival Coca-Cola Co. ( KO - news - people ) will light 50 of its own Christmas trees in Mexico City's Chapultepec Park on Sunday. Beverage Digest says Coca-Cola holds 69 percent of Mexico's carbonated soft drink market compared to Pepsi's 16 percent.

The Brazilian city of Aracaju holds the previous Guinness world record for the tallest Christmas tree in the world which measured 110.1 feet in 2007.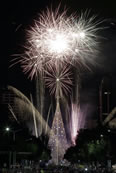 Mexico City's winter festivities the past few years have been pretty spectacular, but this year's celebrations promise to be even more so.
Photo: Fireworks explode near the Tallest artificial Christmas tree .Photo REUTERS / Daniel Aguilar (enlarge photo)

Mexico City mayor Marcelo Ebrard announced that this year's "La Magia de Navidad" (The Magic of Christmas) festival will take place from December 5, 2009 to January 9, 2010, and will include the tallest Christmas tree in the world, and not one, but two skating rinks in the Zocalo, as well as traditional Mexican Christmas celebrations such as posadas, pinatas and pastorelas.

One of the main events planned as part of this year's Christmas celebration in Mexico City is a free concert by famed tenor Placido Domingo. Billed as the Concierto del Angel, the concert will take place on December 19 at the Angel of Independence monument on the Paseo de la Reforma.

It will be his first free concert in Mexico, his son Alvaro Domingo told El Universal daily. The world-famous tenor spent part of his childhood and launched his musical career in Mexico. It will be his first visit to the capital in seven years.

Alvaro said his father, who now directs the Washington National Opera and the Los Angeles Opera in the United States, will perform songs from Spanish zarzuela, Christmas songs and traditional Mexican folk tunes.

The concert is part of "Christmas Magic," a 36-day festive event organized by city authorities expected to draw as many as three million visitors to the city.

Related world records:
Largest Floating Christmas Tree-Rio de Janeiro sets world record

Tallest living Christmas tree-Coeur d'Alene sets world record

Smallest 'snowman' - National Physics Laboratory sets world record

Most Santas skating in a Conga Line-Warwick Castle sets world record

Most expensive Christmas bauble-Hallmark Jewellers sets world record

Biggest fireworks show on the barge-Fireworks do Brasil sets world record

Biggest New Year Party-world record set by Rio de Janeiro

Largest Santa Claus ice sculpture-world record set by Chinese sculptors

Sunday, December 6, 2009