Tuesday, April 12, 2011

Oldest serving judge: Judge Wesley Brown sets world record (HD Video)

WICHITA, Kan., USA -- Federal Judge Wesley Brown, who was appointed by President Kennedy a half century ago, is still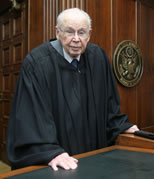 hearing cases at age 103, as a senior judge in Kansas , setting the world record for the Oldest serving judges.

Photo: U.S. Federal District Judge Wesley Brown poses in Wichita. Brown is the oldest working federal judge in the nation, one of four appointees by President Kennedy still on the bench. (enlarge photo)

Guinness World Records also recognized Judge Wesley E. Brown as the the oldest practising federal judge.

The Guinness world record for the Longest serving judge was set by Judge Albert R. Alexander (1859-1966) of Plattsburg, Missouri, USA. He was enrolled as a member of the Clinton County Bar in 1926 and was later the magistrate and probate judge of Clinton County until his retirement on 9 July 1965 aged 105 years 8 months.

Senior judges conduct trials and handle civil and criminal matters. Federal officials say without the semi-retired judges the courts could sink under the load.

The law clerk for U.S. District Judge Wesley Brown confirmed that the judge is removing himself from the draw for assignment of new criminal cases. The docket also showed several of his existing cases being reassigned to other judges.

His law clerk, Michael Lahey, told The Associated Press that Brown will continue to preside over fewer of his remaining criminal and civil cases.

The judge uses oxygen as he presides from the bench, and Lahey says the lengthy plea hearings "take a lot of oxygen" from him. He turns 104 in June.

The only sitting judge older than him was Joseph Woodrough, who was on the Eighth Circuit until 1977, when he died at 104.

Congress honored and commended Brown on his 100th birthday in 2007.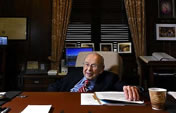 Photo: At 103 years old, Judge Wesley Brown has taken to warning lawyers preparing for lengthy court battles that he may not live to see the cases to completion. Photo: Larry Smith (enlarge photo)

The resolution notes that Brown worked on a Ford Motor Co. assembly line, helping to build Model A's while taking night classes at the Kansas City School of Law.
"Whereas at the onset of the Great Depression in 1931, Wesley E. Brown was given the task of typing 3,000 'pink slips' at the Ford Motor Company, including the last one in the pile, bearing the name of `Wesley E. Brown,'" the resolutions continues.

"Whereas Wesley E. Brown has been a living example of the American Dream, rising from modest means and succeeding through hard work and perseverance," it also says.

Brown served in the U.S. Navy in World War II as a lieutenant stationed at Commander Philippines Sea Frontier. He has been a senior district judge since 1979, after serving a seven-year term as the court's chief judge.

Brown had two children with his first wife, Mary Miller Brown, whom he married in 1934. He married his second wife, Thadene Noel Moore Brown, 60 years later.

The resolution states that Brown has been awarded the Phil Lewis Medal of Distinction and lifetime achievement awards from the Wichita Bar Association and the Judicial Council of the 10th Circuit.
It quotes him as saying, "As long as I can do the job, I'll carry on."

A database shows that of the nation's 1,294 sitting federal judges, 516 of them are senior status judges.

The American constitution grants federal judges an almost-unparalleled option to keep working ''during good behaviour'', which, in practice, has meant as long as they want.
But since that provision was written, average life expectancy has more than doubled, to almost 80, and the number of people who live beyond 100 is rapidly growing.

David Sellers of the administrative office of the federal courts says senior judges are keeping the judiciary afloat because of rising case loads, unfilled vacancies and the long time it has been since new judgeships were created.

Last year, senior judges conducted 24 percent of trials and handled more than 17 percent of civil and criminal cases.

For his part, Judge Brown is dismissive of talk of his place in the record books and tired of all the fuss over his birthdays. ''I'm not interested in how old I am,'' he said. ''I'm interested in how good a job I can do.''



Related world records:
Longest serving Cub Scout den mother: Adele Trapp

Longest serving cricket umpire: Dean Groves

Longest serving scout: Reg Hayes

Longest Career as a Female Radio Presenter: Annie Nightingale

Oldest Meeter-Greeter: Syd Prior

Oldest Practicing Doctor: Dr Walter Watson

Longest serving paper girl: Darlyne Markus

Longest career in the same store: Roy Goggs

Oldest Barber: Anthony Mancinelli

Longest-serving paper boy: Ted Ingram

Longest serving radio DJ: Herb Kent

Highest-time female pilot: Evelyn Bryan Johnson

Most hours spent flying the F-16: Air Force pilot

Longest Serving Chief of Police: Chief Thomas E. Hawley

Longest career as a weather forecaster: Dave Devall

Oldest college graduate in history

Tuesday, April 12, 2011