Longest Serving Chief of Police-Chief Thomas E. Hawley

[May 4] GREEN BAY/ A former Green Bay police chief has the Guinness Book of World Records stamp of approval. The late Chief Thomas E. Hawley has been officially recognized by the Book of World Records as the World's Longest Serving Chief of Police.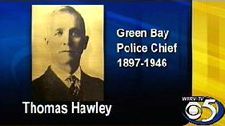 Chief Hawley served as the City of Green Bay Police Chief from August 17, 1897 to June 1, 1946 – a total of 49 years. This new world record is a fitting tribute to the rich history of the Green Bay Police Department, which will be celebrating its 150th anniversary on August 27.
The Green Bay Police Department officially began on August 27, 1857 headed by Police Chief Henry Baird and within a few years the department consisted of five officers. Since then it has grown to 192 sworn officers serving a population exceeding 100,000.
A historic display at the Neville Public Museum is scheduled for June 9 thru July 15. This display will include historic uniforms, tools of the trade, investigative equipment, historic photos, and more.
A police department open house is also planned for Saturday, August 25, from 10 am to 3 pm.
The general public is encouraged to donate any Green Bay Police Department memorabilia, including photographs, equipment, call boxes, uniforms, badges, and anything else of historical significance.
If you have an item that you would like to consider donating, please contact Mike Erickson at 448-3265.