Thursday, September 23, 2010

Longest Career as a Female Radio Presenter: Annie Nightingale sets world record (Video)

LONDON, UK -- Well loved Radio 1 DJ Annie Nightingale, 68, has been a regular fixture of the British airwaves for a good forty years now - setting the new world record for the Longest career as a female radio presenter . (Longest-serving female DJ)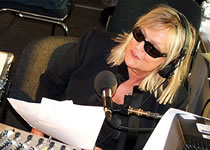 Photo: Annie Nightingale: 40 years of service as a DJ at Radio 1. (enlarge photo)

She was presented with the Guinness World Records award by one of her favourite musicians, Liam Gallagher, at Radio 1's studios in central London.

Liam said: "Annie is a true icon of British Radio. She's been on Radio 1 since before I was born. Good on her for getting this record. I hope she's still here in another 40 years!"

She is now its longest serving presenter.
Nightingale was the first female DJ to present on Radio 1 back in 1970, and has been on air with the station since.


(enlarge photo)

When Annie Nightingale spun her first disc at BBC Radio 1, The Beatles were still together and Jimi Hendrix and Jim Morrison were still alive. Forty years later and the station's first female DJ is still there - and now she's won a Guiness World Record as the world's longest-serving female radio presenter.

The previous Guinness World record for the...

"When I took the wrong record off and caused eight seconds of dead air on my very first Radio 1 show, I thought that was the beginning and end of me," she said. "Since then I think it's been a case of keep cool and carry on.

Annie was awarded an MBE for her services to broadcasting in 2002 and two years later she became the only woman to date to be inducted into the Radio Academy Hall of Fame.

Her weekly show (Fridays from 2am-4am) has won best radio show at the International Breakspoll Awards for the last five years in a row.

The Irish-born BBC Radio 1 host specializes in a wildly energetic blend of styles and sounds, from grime and dubstep to electro and disco-house. And she's not only one of the most highly respected female DJs in electronic dance music, but also one of the most forward-thinking contemporary tastemakers.

Annie Nightingale: "In a nutshell, my philosophy is this: If not now, when? If not you, who? It's a bit of a cliché but again it can be motivating."

Subscribe to our free RSS News feed to receive updates.

Related world records:
Longest Continuous Broadcast - Nikora Curtis

Youngest male radio presenter - Jack Hill

Longest serving male radio DJ - Herb Kent

Longest Elvis Presley Song-Playing Marathon - DeeJay CJ

Longest Radio transmission - Dave Starkie

Oldest Meeter-Greeter - Syd Prior

Oldest Practicing Doctor - Dr Walter Watson

Longest serving paper girl - Darlyne Markus

Longest career in the same store - Roy Goggs

Oldest Barber - Anthony Mancinelli

Longest-serving paper boy - Ted Ingram

Longest serving radio DJ - Herb Kent

Highest-time female pilot - Evelyn Bryan Johnson

Most hours spent flying the F-16 -Air Force pilot

Longest Serving Chief of Police - Chief Thomas E. Hawley

Longest career as a weather forecaster - Dave Devall

Thursday, September 23, 2010