Thursday, October 27, 2011

Oldest groom: Hazi Abdul Noor sets world record

SATGHARI, India -- Hazi Abdul Noor, who is 120 years old, married 60-year-old Samoi Bibi in front of 500 guests in the village of Satghari in north-eastern India - setting the new world record for the Oldest groom, according to World Record Academy (www.worldrecordacademy.com).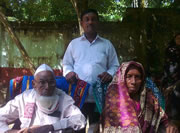 Photo: Hazi Abdul Noor (left) with his new wife Samoi Bibi.
(enlarge photo)

The Guinness world record for the most ushers to one groom was set by Arulanantham Suresh Joachim (Sri Lanka), who married Christa Rasanayagam (Canada) at Christ the King Catholic Church, Mississauga, Ontario, Canada, accompanied by 47 groomsmen, aged between 2 and 63.

Guinness World Records also recognized the world record for the largest underwater wedding, achieved by 261 divers who took part at the marriage ceremony between Francesca Colombi and Giampiero Giannoccaro (both Italy) at the Morcone beach, Capoliveri, Elba Island, Italy.

The bridegroom's son Hazi Azir Uddin told the Times of India his father had asked his children to help find him a new companion who would be able to look after him after his first wife died few years ago.

"It's not an easy job to find a bride for a 100-year-old. However by the grace of god, we have found a new mother," Mr Uddin said.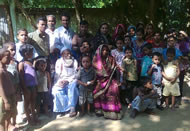 (enlarge photo)

Noor married 60-year-old Samoi Bibi on Sunday at a ceremony attended by at least 500 guests at Satghari, a remote village in the north-eastern state of Assam.

Samoi Bibi was a widow with no children. With her marriage she acquired two stepsons and four stepdaughters, some of whom are older than her.

Noor has a family of 122 members including sons, daughters and grandchildren.

Related world records:
Most wedding vows renewals: Mark and Denise Duffield-Thomas

Most expensive display wedding cake: Dallas Bridal Show

Most Expensive Bride: Deven Trabosh

Longest wedding dress: Ling Rong

Fastest update of relationship status: Dana Hanna and Tracy Page

Longest wedding dress: Ling Rong

Most weddings in a single day: China

Largest Bride Parade: Bucharest

Most married woman: Linda Wolfe

Longest marriage for a living couple: Herbert and Zelmyra Fisher

Longest Love Poem: 'The Evening Star'

Largest wedding vows renewal: Pittsburg

Largest Wedding Vow Renewal: Bucharest

Most kisses in one minute: DJ Paul Winstanley

Most kisses in the skies: SkyEurope

Most simultaneous kisses: Tuzla town

Most people kissing at one time: Mexico City

Longest kiss while standing in the window: Mexx fans

Oldest couple to divorce: Bertie and Jessie Wood

Thursday, October 27, 2011