Monday, June 4, 2012

Fattest Living Cat: Sponge Bob sets world record (PICS & Video)

NEW YORK, NY, USA -- Manhattan shelter cat Sponge Bob, nine, weighs an incredible 30 pounds, the same as a four-year-old child, and is on a strict diet and fitness regime at the animal shelter where he now resides - setting the new world record for the Fattest Living Cat, according to the World Record Academy: www.worldrecordacademy.com/.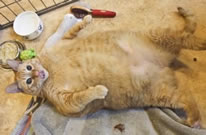 Photo: Meet Sponge Bob, a massive 30-pound kitty currently residing at the Animal Haven Shelter in SoHo. He weighed 33-pounds when he first came to the shelter two months ago—after his elderly owner had to go into hospice—and he's on a strict diet now. (enlarge photo)

The Guinness world record for the loudest purr by a domestic cat is 67.7 dB (LA peak) and was achieved by Smokey, owned by Lucinda Ruth Adams (UK) at Spring Hill farm, Pitsford, Northampton, UK.

Guinness World Records also recognized the world record for the longest whisker on a cat: 19 cm (7.5 in) and belongs to Missi, a Maine coon who lives with her owner, Kaija Kyllönen. The whiskers were measured in Iisvesi, Finlan.

Sponge Bob is now the world's heaviest cat after the previous fattest cat Meow, from Sante Fe, New Mexico, died of pulmonary failure at 39lbs, earlier this month.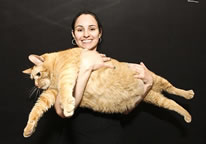 Photo: Kendra Mara, Associate Director at Animal Haven in New York City cradles a 33lb cat named Sponge Bob.
(enlarge photo)

Dedicated staff at Animal Haven in New York came up with exercises to encourage Sponge Bob to move, helping him shed 3lbs in just two months.

Kendra Mara, Animal Haven's associate director, said: "Sponge Bob came to us when his owner went into a nursing home. "We opened up the carrier and about ten to 15 people stood around staring at him for quite a long time, because he's the largest cat we've ever seen.

"We don't know how he became so big. We can only guess that his owner, because he was ill, was feeding him dry food on a regular basis, maybe just leaving it out, so he was able to eat whenever he wanted."

She added: "It is pretty abnormal for a cat to be able to get this big. But he has had blood work and doesn't have hyperthyroidism or anything so it appears to be just from eating."

A survey of veterinarians by the Association for the Prevention of Pet Obesity found that 45 percent of dogs and 58 percent of cats were overweight or obese.

Sponge Bob lives in a special large pen, usually given to a whole litter of puppies, and staff encourage him to jump out of the cage for daily exercise.

Staff use cat nip to keep Sponge Bob moving, along with occasional tiny cat treats, to make him to run across the room.

"To get him to run across the room, it's worth it," said Kendra.

Sponge Bob is fed a special protein diet food of lean chicken, fish and vegetables such as pumpkin, containing no carbohydrates.

Staff at Animal Haven hope Sponge Bob will continue losing one to two pounds per month, to reach a more healthy weight in around eight months' time.

He is expected to be adopted soon by a loving family, who can dedicate their time to playing with him, as well as continuing his healthy diet.

Related world records:
Heaviest Living Cat: 39 Pound Cat sets world record (PICS & Video)

Oldest living two-faced cat: Frank and Louie sets world record (HD Video)

Most ears on a cat: Luntya The Cat (Video)

Loudest Cat: Smokey The Cat (Video)

Longest Cat: Stewie

Tallest cat: Scarlett's Magic

Oldest cat: Mischief

Monday, June 11, 2012 11:02 AM