Wednesday, July 18, 2012

Most nationalities on a theme park ride: Swedish theme park sets world record (PICS & VIDEO)

Gothenburg, Sweden -- In conjunction with the 38th annual Gothia Cup football tournament held in Gothenburg, people from 72 different nationalities took a spin together on a Ferris wheel at Liseberg Amusement Park - setting the new world record for the Most nationalities on a theme park ride, according to the World Record Academy: www.worldrecordacademy.com/.


(enlarge photo)

"By bringing different nationalities together on one ride we want to show our borderless world and our common responsibility for its future, regardless of nationality, religion, sex or color," says Dennis Andersson, General Secretary of Gothia Cup.

The Guinness world record for the tallest swing carousel, called "Prater Turm" is 117 metres (383.8 ft) and is operated by FUNTIME HandelsgmbH. It is located in the City of Vienna.

Guinness World Records also recognized the world record for the steepest roller coaster made from steel, set by the Takabisha ride, which has an inclination of 121 degrees over 3.4 m (11 ft 1.86 in) and was unveiled at Fujikyu Highland Amusement Park (aka Fuji-Q Highland Amusement Park), in Fuji Yoshida-city, Japan.

The 72 record holders included Gothenburg residents, as well as players from teams which participated in the Meet the World and Gothia Cup football tournaments including Hamish St George, 15, and Dylan Andrews, 15, from Perth, Western Australia.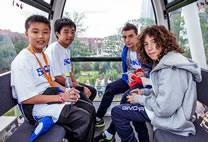 (enlarge photo)

The group succeeded to set the world record with a good margin over the minimum required number of 50 nationalities.

Facts on Liseberg's ferris wheel:
Diameter: 60 meter,
weight: 275 ton,
number of gondolas: 42,
passengers per gondola: 6,
total capacity: 252

Since it's start in 1975, the Gothia Cup has grown to become the world's largest youth football tournament, with this year's tournament bringing more than 1,600 teams and 35,000 players from around the world to Gothenburg.

This world record was arranged by Gothia Cup, SKF and Liseberg.

Related world records:
Most costumed riders on a theme park ride: Dorney Park set world record (HD Video)

Largest indoor theme park: Ferrari World sets world record

Tallest Lego Tower: Legoland park sets world record

Steepest roller coaster: world record set by The Takabisha (HD Video)

Largest straw maze: Garden Cents in Rupert sets world record (Video)

Wednesday, July 18, 2012 10:48 AM