Thursday, December 2, 2010

Largest gathering of people with mustaches: Minnesota hockey fans set world record

ST. PAUL, Minn., USA--After a Minnesota Wild Hockey game, 1,131 men set the new world record for the Largest gathering of people with mustaches in one place.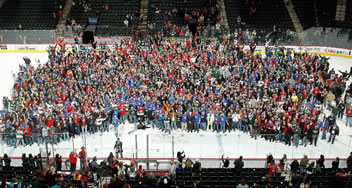 Photo: Minnesota Wild fans and the Tom Selleck Fan Club combine to attempt to break the Guinness world record for the largest gathering of people with moustaches. Photo by: Bruce Kluckhohn/NHLI (enlarge photo)
The previous Guinness world record for the Largest gathering of people with mustaches in one place was 151, established by members and fans of the Partick Thistle Football Club in Glasgow, Scotland.

It was part of the "Movember" effort, where men are asked to grow a mustache for the month of November to raise money to fight prostate cancer. Even the players took part. Nick Schultz says, "It's something for a great cause. To see everybody get behind it and have fun growing their mustache, it's been a fun month."

Every man, woman, and child donned a mustache at the Minnesota Wild hockey team's game against the Nashville Predators.

It's all for "Movember." The non-profit, charity organization was founded to promote men's health.

This idea originated from Wild defense man Nick Schultz's determination to help a family friend who was diagnosed with prostate cancer in 2009.

After receiving the bad news about his friend, Schultz was turned on to "Movember," a non-profit organization that promotes men's health, particularly in November. The organization, started by four Aussies at a bar, requires it's supporters to grow mustaches during November. It serves as the ultimate conversation starter to talk about men's health. Since "Movember" started, the organization has raised over 100 million dollars for cancer research.

Schultz started growing his mustache on November 1st. Next thing he knew, his Wild teammates were growing mustaches as well to support Schultz and men's health.

Guys grow mustaches throughout the month of November to serve as a conversation starter, drawing awareness and research funds towards prostate cancer. Since its inception, Movember has raised more than one-hundred million dollars world-wide.

In order for a mustache to be considered valid by Guinness World Records, it must be an inch and a half long, half an inch tall, and a fifth of an inch in depth. The Minnesota Wild also passed out fake mustaches to women and children as part of the fun, but it did not count towards the record.
Subscribe to our free RSS News feed to receive updates.

Thursday, December 2, 2010