Tuesday, July 13, 2010


Longest outdoor inline hockey game - Indian players sets world record

BELGAUM, Karnataka, India -- Thirty-two skaters from Belgaum and across India played hockey for 30 hours non-stop at the Shivaganga Roller Skating Club's (SRSC) rink , setting the world record for the Longest outdoor inline hockey game (longest outdoor roller hockey game).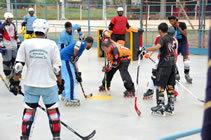 (enlarge photo)

Chief coach of Indian Inline Hockey team A.D. Sharma, who is also a senior official from Department of Sports, Government of Haryana, declared to have broken the world record, even as crackers were burst to mark the occasion.

Later, the players continued to be at the rink and played till 8.30 p.m. and set a new world record of playing for 30 hours non-stop.

The monsoon rain waslashing the city non-stop for two days.

The players, who never showed sign of fatigue but kept their moral and spirit throughout are Amit Sharma, Gurpreet Singh, Gurjap Singh, Gurnazar Singh, Prabhjot Singh, Aakash Sehgal, Gaurav Bhattal, Jaspreet Dhaliwal, Rajesh Singh, Babli Singh, Reekhansh Sharma, Surender Pal Singh, Mohit Yadav, Kapil Gehlot, Nikhil Chindak, Aniket Chindak, Atul Sharma, Wayne Chow, Anshul Sood, Saurabh Duggal, Andrew Sponagle, Jaspreet Johal, Jitender Singh, Anjali Singh, Kiran Dahiya, Navraj Singh, Sarvesh Amte, Devyani Verma, Madhur Verma, Anuveer Singh, Amit Ahuja and Sachin Singh..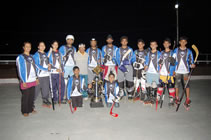 The world record attempt for the World's Longest Outdoor Inline Hockey Game was sponsored by the Shiv Ganga Roller Skating Club.

(enlarge photo)

The World Record for the Longest indoor inline hockey game is 25 hours and 14 minutes, set by Townsville Inline Hockey from Queensland , Australia.

Subscribe to our RSS News feed to receive updates. Related world records:
Longest poker game - Phil Laak

Longest Bowling Run-up - Jason Rawson

First to Throw a Perfect Game in MLB 2K10 -Wade McGilberry

Highest cricket score in one-day match - Olly Hardaker

Largest ' Ring a Roses' Game - Children Today

Largest Twister Board - UCD Suas Society

Largest dodgeball game - University of Alberta

Longest keepy-uppy journey - Dan Magness

Most yo-yos spinning at the same time - Ben McPhee

Tuesday, July 13, 2010