Friday, September 23, 2011

Largest Sushi Dish: Japanese restaurant sets world record (Video)

ANJO CITY, Japan -- The Umewaka Restaurant in Anjo City, Aichi Prefecture, has become famous for serving sushi dishes, up to 20 cm in diameter and nearly 6-kg-heavy , setting the world record for the Largest sushi dishes, according to World Record Academy (www.worldrecordacademy.com).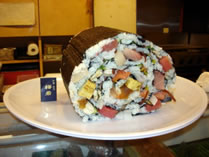 Photo: The World's Largest Sushi Dish has 20 different foods wrapped inside 2 meters of seaweed and rice. It costs 15,000 yen and requires a reservation 2 days in advance. (enlarge photo)

The Guinness world record for the longest sushi roll measured 2,033.3 m (6,671 ft) and was achieved by The Liaison Council of Japanese Postal Workers' Union in Gunma Prefecture, Maebashi City, Japan.

Guinness World Records also recognized the world record for the largest sushi mosaic: 20.13 m?(216 ft 97 in), achieved by the Norwegian Seafood Export Council (Norway) with the help of the student chefs from Zhonghua Vocational School in Shanghai (China).

The World's Largest Sushi Roll prepared at this unique establishment is called the "Generous Roll" and contains 24 tasty ingredients, including a variety of fish and seafood, vegetables, rice, all laid out on a 2-meter-long piece of dried seaweed.


(enlarge photo)

It weighs almost 6 kilograms, reaches 25 cm in diameter and needs to be ordered at least 2 days in advance, for ¥15,000 (196.69 U.S. dollars).

At Umewaka, everything from the futomaki roll to the nigri zushi comes in super-sized servings no one man could hope to finish in one sitting.

For the same price, you can also order a giant set of nigiri sushi (together with a super tiny set). The slab of tuna on top of one blob of rice could make about 40 normal-sized maguro nigiri-zushis.
Related world records:
Largest Sushi Mosaic: Norway

Longest California Roll: University of Massachusetts

Largest slice of cheese: Long Clawson Dairy

Longest bratwurst: Chicago's Berghoff Restaurant (HD Video)

Largest Navajo taco: Gallup residents (HD Video)

Largest stir-fry: UMass Amherst (HD Video)

Longest Line of Tacos: City of Phoenix

Longest barbecued sausage (boerewors): AfriForum Youth

Largest serving of fish and chips: Yorkshire pub (Video)

Largest serving of chips: Britain (Video)

Largest Matzo: Manischewitz (Video)

Longest skewer of kebab: El Paso family

Hottest sausage: The 'Devil's Sausage'

Largest serving of barbecued beef: Argentina (Video)

Longest sausage: Chef Alberto Della Pelle and his team

Largest caprine cheese: Greek farmers

Largest Zampone sausage: Castelnuovo Rangone Chefs

Largest matzo ball: Tucson Jewish Food Festival

Largest Sushi Mosaic: Norway

Largest enchilada: Mexico City

Largest sausage kolache: Kolache Haven

Longest Shish Kebab: Murat Aksu

Largest Bowl of Macaroni And Cheese: Chef John Folse

Friday, September 23, 2011